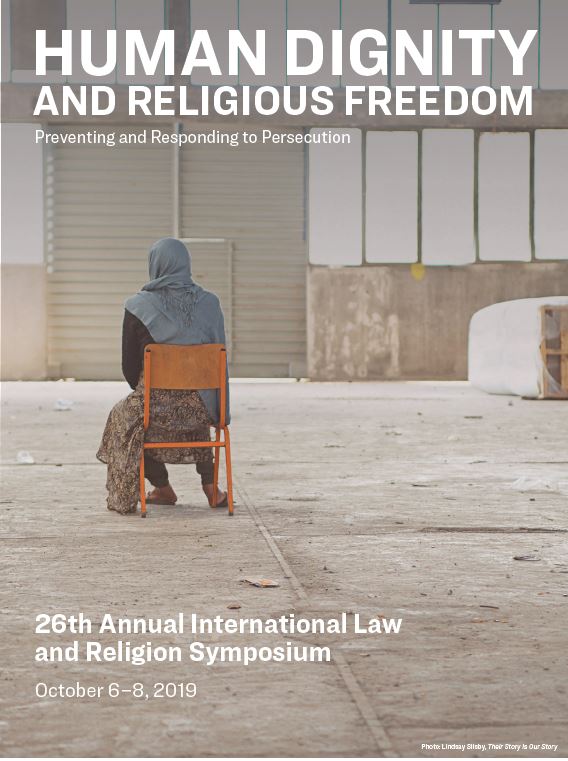 The 2019 Annual International Law and Religion Symposium focuses a light on persecution, with a particular emphasis on how implementing the concepts of human dignity and religious freedom can help prevent and respond to persecution worldwide.
Nearly 75 years after the end of World War II, and 70 years after the adoption of the Universal Declaration of Human Rights, in many parts of the world there are severe instances of religious persecution – not just discrimination, marginalization or hostility, but mass atrocities, including murder, torture, bodily harm, rape and sexual violence, slavery and forced labor, forced displacement, forced conversion, and atrocities that may be classified as crimes against humanity, war crimes or even genocide. The Universal Declaration of Human Rights collectively resolved "never again" in response to the horrors of the Holocaust, but we find ourselves once again facing serious cases of religious persecution that cannot be neglected. This in spite of the fact that communication is better than it has ever been, with ease of transportation better than it has ever been, diaspora able to communicate easily with local communities, social media that has democratized the ability to shine a spotlight on problems – factors that it seems should mitigate persecution.
And yet, we see examples of persecution in various places in the world: Amadis in Pakistan; Yazidis in Iraq; Rohingyas in Myanmar; Baha'is in Iran and Yemen; Christians in many parts of the Middle East; Uighurs and Tibetan Buddhists (among others) in China; Christians and Muslims in India; and resurgent anti-Semitism in France and other parts of Europe – to name a few.
This Conference aims to achieve a better understanding of the dynamics of persecution, and what various national and global players can do to better prevent and respond to persecution. Lord Alton of Liverpool and Bishop Efraim Tendero, incoming co-president of Religions for Peace and Secretary-General/CEO of the World Evangelical Alliance, will provide keynote addresses. Other major sessions will look at the dynamics of religious persecution and what role various actors, such as judges, religious organizations, the media, human rights advocates, and government leaders can play in redressing existing persecution and preventing additional persecution.
The  26th Annual International Law and Religion Symposium will be held in Provo, Utah on 6-8 October 2019. Attendance and participation are by invitation only. Contact the Center for more information.
Approved for 12 hours of Utah CLE — $15.00