The AMAR Foundation has been actively involved in the lives and livelihoods of some of the world's poorest and most disadvantaged people for over 27 years. Specializing in the areas of professional health care, education, and sustainable training, their efforts have had a focus in recent years on the Yazidi people; a population of millions that was forced from their homes back in 2014 by the Islamic State. The current and future work to be done pertaining to marginalized groups such as these served as the primary focus of this year's AMAR Foundation Conference, co-sponsored by the International Center for Law and Religion Studies and held in Salt Lake City, UT on April 20-21.
As described by Nezar Taib, an Iraqi Child and Adolescent Psychiatrist, AMAR defines health as "not just [a] lack of diseases. It's their well being and social wellbeing also." A key objective of the two days of discussion was to narrow down possibilities for enhancing aspects of refugee life that extend beyond their tangible physical state. The mental health of refugees and marginalized communities worldwide is a topic of growing concern.
"Mental health is the one issue that isn't talked about all the time," stated Lisa Campbell, Executive Director of 'Do Your Part' NGO. Andrew Metheven, AMAR Chief of Staff, shared about the desperate need for mental health clinics, such as the 30 which have been established by AMAR worldwide. Many suffer in excruciating degrees as the result of the loss of one thing in particular: choices. While the complications and processes involved in the obtaining of documentation, legal rights, and full autonomy for these individuals remain a topic of future discussion, a solution to the mental strife associated with this loss may have been found through an unconventional means.
"There is a deeper registry in the human heart that music, especially, exposes." Remarked Bishop Alastair Redfern of the Church of England. Progressive discussion emphasized the ability of music to return power to its creator via the many decisions required in its production. Michael Bochmann, a Professor of Music with vast experience implementing music in refugee camps, commented on the profound connection between music and Yazidi culture.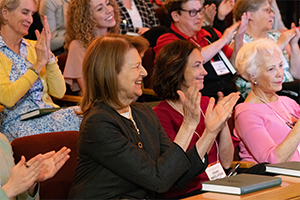 "Their religion is not written down… they sing it. Music is absolutely essential to what they do. The music tells them when to sow, when to reap, when to milk… it is actually a part of their life." Music was described not only to help displaced individuals connect with their personal and cultural identity, thus building confidence, but David Kerr, Professor of Cancer Medicine at Oxford University, also brought forth evidence of the way music therapy can be applied beneficially towards pain control.
While evaluating the efficacy of methods of music therapy, the AMAR Foundation prioritizes the long term welfare of those they serve rather than short-term solutions. As put by Baroness Emma Nicholson, Chairman of the AMAR Foundation, "We want everyone to be as happy and healthy as we hope our families to be." The future remains an unknown variable for many of the world's current refugees, yet the implementation of music-based programs, such as instrument courses and an all-girls choir, has introduced hope into otherwise bleak environments. The development of additional thought and programs poses a strong capacity to provide the same in the upcoming years.
There was a follow up session in July in England: July Session
Press Coverage: Deseret News: The unlikely tool that could help ease the burden of refugees in Europe
Written by Emily Curtis