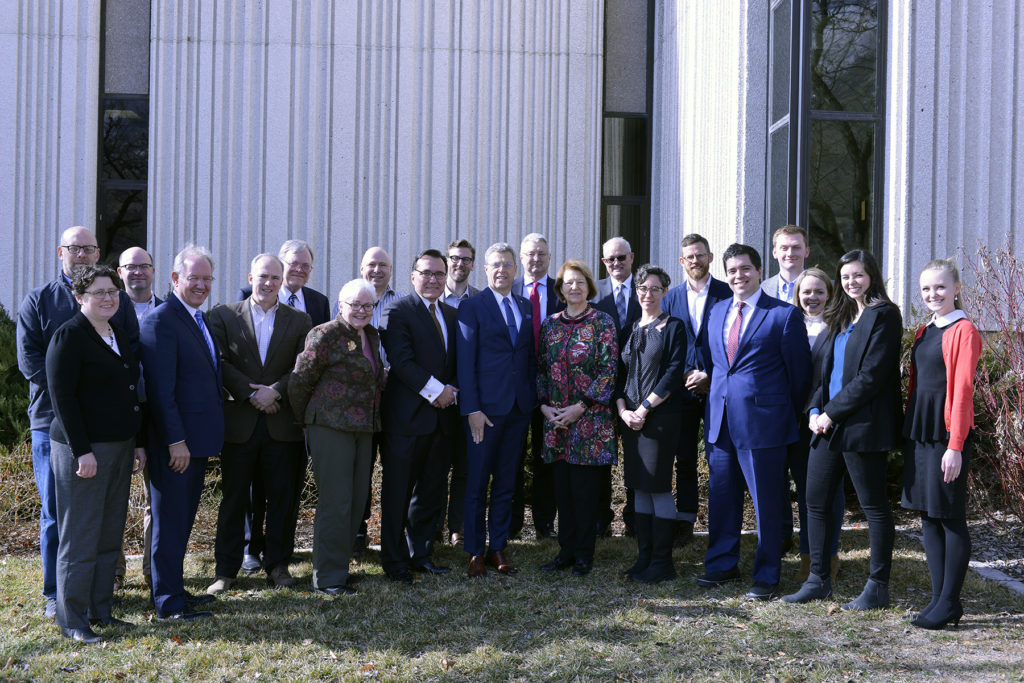 On 31 January 2020 a group of scholars, human rights advocates, and experts met in Provo, Utah to discuss religious persecution and how to both prevent persecution and help persecuted groups move toward inclusion in their communities.
The planning meeting opened with welcomes from W. Cole Durham, Jr., Founding Director of the International Center for Law and Religion Studies (ICLRS), from Brett G. Scharffs, Director of ICLRS., and from Baroness Emma Nicholson of Winterbourne, Founder and Chair of the AMAR Foundation.
Following welcomes, the group discussed the format and themes of an upcoming book on the topic of From Persecution to Inclusion.
The discussion continued in the afternoon with a presentation by Brett Scharffs and ICLRS Senior Fellow David Kirkham on the experience of The Church of Jesus Christ of Latter-day Saints.  The early history of the church included intense persecution and an exodus to find a place where the members could live their religion in peace. Over the years, the church has gained acceptance and members participate in many aspects of society, while still on occasion encountering prejudice and scrutiny.
Baroness Nicholson then discussed the work AMAR has been doing with persecuted groups, including a project to preserve the music traditions of the Yazidi people.
The day concluded with the group laying the foundation for an upcoming book, a conference to be held in the United Kingdom this summer, and the groundwork for future recommendations to combat religious persecution and guide persecuted groups toward inclusion.
Participants:
Geoffrey Cameron, National Director of Public Affairs, The Baha'i Community of Canada
Elizabeth Clark, Associate Director, International Center for Law and Religion Studies, J. Reuben Clark Law School, Brigham Young University
W. Cole Durham, Jr., Founding Director, International Center for Law and Religion Studies, J. Reuben Clark Law School, Brigham Young University
Chris Frost, Treasurer, AMAR Foundation
Richard W. Garnett, Paul J. Schierl/Fort Howard Corporation Professor of Law and Director, Program on Church, State, and Society, Notre Dame Law School
David M. Kirkham, Senior Fellow for Comparative Law and International Policy, International Center for Law and Religion Studies, J. Reuben Clark Law School, Brigham Young University
Emma Nicholson, The Baroness Nicholson of Winterbourne; Member of the House of Lords; Chairman, AMAR International Charitable Foundation
Shawn Peters, Affiliated Faculty, Integrated Liberal Studies (ILS) Program, University of Wisconsin-Madison
Daniel Philpott, Professor of Political Science and Peace Studies, University of Notre Dame; Center for Civil and Human Rights, University of Notre Dame
Frank S. Ravitch, Professor of Law & Walter H. Stowers Chair in Law and Religion; Director, Kyoto Japan Summer Program, Michigan State University College of Law
Brett G. Scharffs, Director, International Center for Law and Religion Studies, and Rex E. Lee Chair and Professor of Law, J. Reuben Clark Law School, Brigham Young University
Amy Smith, Executive Director, Fortify Rights
Matthew Smith, Chief Executive Officer, Fortify Rights; Fellow, Carr Center for Human Rights Policy, Harvard University