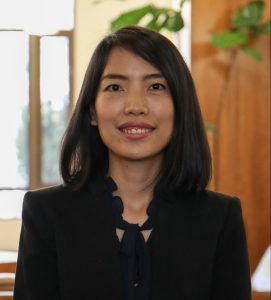 How Seng Mai Aung, a native of Kutkai, Myanmar, ended up in Provo, Utah to attend law school is a story that she describes to be "full of miracles."
In 2015, Seng was working as a program officer with the Institute for Global Engagement (IGE) as the sole staff member in Myanmar. Through their collaboration with the ICLRS to offer trainings on law and religion in Yangon, she came to know Professor Brett Scharffs, then an Associate Director of the ICLRS. Her continued participation in this program led her to crave a legal background herself.
Seng was already highly educated, holding a B.A. in Korean Language from the Yangon University of Foreign Languages, a B.A. in English Literature under the Religious Studies Program at the Myanmar Institute of Theology, and an M.A. in Educational Administration and Higher Education from Korea University. In 2017, Seng expressed to Scharffs her desire to contribute to the improvement of her country, and how she felt a law degree would assist her in doing so. Scharffs encouraged Seng to take the LSAT and apply to attend BYU's J. Reuben Clark Law School.
While in Utah as a visiting scholar, she had the opportunity to complete an LSAT preparation course and take the test. Taking it in English did not make the notoriously difficult exam any easier, and despite her diligent effort she realized a better score would be needed to ensure her attendance at BYU's Law School. She continued studying for the LSAT with resources from the class upon returning home. Because there were no LSAT testing facilities in Myanmar, Seng had to fly to Bangkok each time she took the test. She felt very discouraged after several attempts without obtaining a desirable score. Nonetheless, she did not give up. In her own words, "I was sure that if God was willing, he could give me the score, and he did." Her perseverance has greatly blessed her studies at BYU, and will greatly bless her nation upon her return.
Nearly eighteen months have passed since the takeover of the Myanmar government by the coup d'etat staged by the Myanmar military, and Seng has had no choice but to watch the ensuing chaos from afar. Since the takeover, which took place just 2 weeks after her wedding, the Tatmadaw (another term by which the Myanmar military is known) has claimed over 5,600 civilian lives. Seng recently described the way the conflict has affected her family, her colleagues, her community, and their access to human rights such as religious freedom.
The recent return of the Tatmadaw to power has not only heightened casualties through its militia raids and attacks, it has drastically lowered accessibility to essential medical resources, leading to an even higher surge of death in combination with the COVID-19 pandemic. Seng has lost many loved ones to COVID-19 due to the lack of supplies and medical professionals. With many of the country's nurses and doctors on the run due to being part of the Civil Obedience Movement, there was no properly-trained assistance available when Seng's brother arrived at the hospital with a swollen lung. Despite him being only 44 years old, this resulted in his passing.
"The military has taken a next step that has been very dangerous and most contrary to existing laws… the last time they hung people was over 30 years ago." stated Seng Mai Aung. The rash actions of the Tatmadaw have sent ripples of unrest cascading over the entirety of her nation. As a witness of her family and nation's struggles from afar, Seng humbly declared: "I am one of the privileged people. I am not in a position to complain. It's important to know that there are others in situations a thousand times worse. Villages burnt down, animals killed, families killed. There are a lot of people struggling there, and they don't feel like others care at all."
Allies of the Myanmarese people can help best by striving to increase the mental support and care available to them. According to Seng, an indispensable facet of this is leading them to know that there are people in the world "interested in, supporting, and advocating them." Seng hopes for the passage of the BURMA Act of 2021 to fortify this point.
Although the situation in Myanmar is devastating, Seng believes it may also bring vital opportunities for reform in many areas she is passionate about. Coupling her legal background with her skills in religious peacebuilding, Seng will evidently be in a favorable position to make a difference when the opportunity to return home arises.
-Emily Curtis and Anna Bryner
Sources: Radio Free Asia, the New York Times, the Washington Post