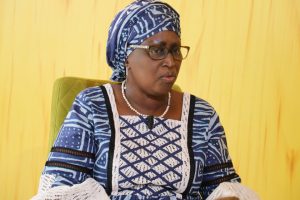 Professor Penda Mbow teaches Muslim Middle Ages and Western History at Cheikh Anta Diop University in Dakar. Her doctoral thesis, defended in 1986 at the University of Aix Marseille, focused on a comparative study between the Mamluks military aristocracy in Egypt between the 14th and 15th centuries. She further worked on slavery research in the Middle East from the death of the Prophet to the end of the Abbasid Empire (11th century). Most of her publications focus on    intellectual history in the Muslim world, Sufism, the issue of women/Islam, interfaith dialogue, castes, multicultural democracy, etc.
Mrs. Penda Mbow has also benefited from numerous scholarships among which we can cite: the FAC scholarship (1982-1986), the senior Fulbright at MSU in 1992-93, Rockefeller Foundation in Bellagio in 1996, ISITA at Northwestern and the National Endowment for Democracy scholarship in Washington for the project: "Citizenship and the Secular State in Muslim Countries: Bringing   Africa into the Debate."
In collaboration with several institutions, such as CODESRIA, where she headed the Gender Institute in 1998, in 2009, OSIWA, Gorée Institute, Trust Africa or West African Research Center, Ms. Mbow has extensive experience in democracy issues, citizenship and good governance in Africa. She has participated in several studies for UNIFEM, UNDP, UNUAP, CRDI. She is also a member of the board of African Monitor BEFORE, which deals with peace in the world.
Involved in civil society for more than 20 years, Penda Mbow created the Citizen Movement which she leads, and which is centered on the intellectual and political leadership of young people. She served as the Minister of Culture in 2001 and candidate for mayor of HLM in 2002.  Ms. Mbow is a member of several intellectual societies and obtained several decorations; in fact, she was a Commander of the National Order of Merit, Knight of the French Legion of Honor, then Officer of the Legion of Honor, Doctor Honoris Causa from the University of Uppsala (Sweden) and Pioneer Woman, John Paul II Prize for Peace, Doctor Honoris Causa from the University of Cluj in Romania, and President of the West African Panel of the Global Challenge Foundation.