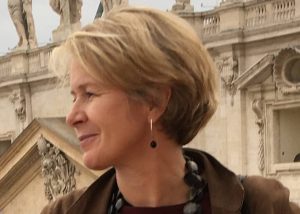 Merete Bilde is policy advisor at the European External Action Service (EEAS), European Union.
She works on issues at the cross section of religion and foreign policy. This includes (geo)political aspects of religion as well as cross cultural/religious relations. She has been involved in a number of networks of diplomats and faith-based political actors meeting regularly in an effort to bridge the gap in understanding between religious and secular worldviews.
She is the driving force behind the EEAS Task Force on religion and culture as well as EEAS training course on Religion and Foreign Policy with the aim to develop collective awareness and skill-set to appreciate the role of religion (whether helpful or problematic) and its implication for diplomatic work. Ms. Bilde is one of the two co-founders of the Transatlantic Policy Network on Religion and Foreign Policy in 2015. This policy network builds on a former EU-led Likeminded Group of diplomats working on religion/diplomacy nexus, which she set up in the mid 2000's.
She has been engaged in various initiatives relating to issues such as freedom of expression, freedom of religion or belief as well as the defamation debate. In the aftermath of the Arab Spring, her work has focused heavily on the new political actors and the new regional dynamics at play, including between the new Middle East and the US and Europe. Prior to her current appointment, Merete Bilde worked in the Policy Unit of EU High Representative, Javier Solana (2005-09) and before that she served as a Danish diplomat (1994-).
Ms. Bilde was a Bosch Public Policy Fellow at the Transatlantic Academy during its 2014-15 fellowship year which focused on religion and its role in the liberal order.  She wrote a short piece on the Brussels perspective on Religion and Diplomacy in the resulting publication 'Faith Freedom and Foreign Policy – Challenges for the Transatlantic Community'.
Ms. Bilde recently gave an interview to Religions For Peace on Why Faith Matters.