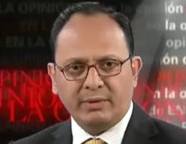 Doctor Jorge Islas López is Consul General of Mexico in New York since 2019.
He holds a Law Degree from the Universidad Nacional Autónoma de México (UNAM), a Master of Law from the University of Columbia, New York, and a PhD in Law from UNAM. He served as Professor of the Right to Access Information and Constitutional Law at the UNAM Law School and at the Instituto Tecnológico Autónomo de México (ITAM).
He served as Attorney General of the UNAM from January 2004 to February 2008.
He was an international lawyer in the prestigious firm Shearman & Sterling, based in New York (1993-1994), Legal Consultant of TV Azteca (1997-2002), Vice President of the Legal Committee of the Association of American Broadcasting Corporation, based in Toronto, Canada (1997-2002) and Legal Director of the National Chamber of the Radio and Television Industry (CIRT, 2003).
He was a member, from 2002 to 2007, of the International Board of Directors of the prestigious Association Article XIX, an NGO based in London, England, dedicated to the promotion and defense of the right to information and freedom of expression. He participates as a columnist for El Universal, as well as an analyst for Noticieros Televisa and the Mexican Institute of Radio.