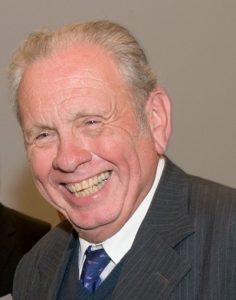 Our friend and colleague Norberto Padilla passed away in his native Buenos Aires from complications following stomach surgery. He was 76. He was serving as president of the Latin American Consortium for Religious Freedom at the time of his death. He was a founding member of that Consortium and also of the Argentine Council on Religious Liberty (CALIR). He worked closely in partnership with the International Center for Law and Religion Studies at BYU.
Norberto spent his career as a lawyer, educator and government official seeking to protect religious freedom in Argentina and throughout Latin America. He was exceptionally well connected to people of influence in the region and brought his knowledge and friendships to bear in seeking improvements in the law and strengthening law and religion education. He was a well-known professor of law at the Pontifical Catholic University of Argentina in Buenos Aires. He and his wife Gloria have a beautiful and numerous family. Faith, family, and freedom marked the priorities of their life together. Norberto joined Gloria in some very significant efforts to promote interfaith understanding and partnerships for good throughout Latin America. He was an enthusiastic participant in the Center's activities in Latin America and was a great ally in the G20 Interfaith Forum project.
Norberto was a devout Catholic whose religious views included an encompassing respect for those not of his faith and a sense of duty to protect their freedom to exercise their own religion. He was an avid reader and opera aficionado. A man of deep culture with a cultivated British accent when he spoke English, he could converse engagingly on virtually any topic and had a beautiful baritone singing voice. We, as a Center, will be forever grateful for his friendship and contribution to the work of religious freedom.