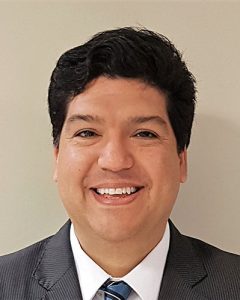 Español
Nació en Cochabamba, Bolivia, casado con Alicia Perez Rivera, expresentadora de programas de ATB con quien tiene 4 hijos: Santiago (15), Caleb (12), Amir (9) y Canela (7)
Obtuvo su bachillerato del Colegio Angloamericano de Cochabamba. Estudió Economía en la Universidad Mayor de San Simón, Bolivia. Egresó como Administrador de empresas el año 2007.
Es Licenciado en Comunicación y Periodismo con un Post grado en Administración y Gestión Pública con honores de la Universidad Privada del Valle de Bolivia.
Es Magister en Comunicación Corporativa de la Universidad de Barcelona, España.
Ex becario 2022 del programa "Dialogo intercultural e interreligioso" para Latinoamérica, de la intergubernamental KAICIID con sede en Lisboa, Portugal
Actualmente y desde el año 2010 es (DIRCOM) director Internacional de Comunicación para el área Sudamérica Noroeste de La Iglesia de Jesucristo de los Santos de los Últimos Días.
Es miembro de la Sociedad Interamericana de la Prensa (SIP)
Ha participado como miembro de la sociedad Civil en coaliciones internacionales ante la OEA, en los años 2017, 2018 y 2019 como defensor de los derechos de Libertad de expresión y Libertad de conciencia.
Panelista internacional en discusiones sobre libertad de conciencia en decenas de eventos. Ha sido invitado por el Gobierno de Colombia para presentar una ponencia en el Foro Hemisférico de Libertades, Por la Comisión de Justicia de la Asamblea Legislativa Federal de Brasil, Por La Comisión de ética del Congreso de Perú y ha sido moderador del Foro de interés ciudadano organizado en Bolivia por el Senado de La República, entre otros.
Es miembro del comité latinoamérica de Religiones por la Paz. Es vicepresidente del Consejo Interreligioso del Perú y Promotor de los comités Interreligiosos de Colombia, Ecuador y Bolivia.
Ha sido presentador, locutor y director de programas radiales y televisivos en cadenas importantes como ATB y Bolivisión de Bolivia desde 1996 al 2010. Mientras fungía como periodista, fue presidente del directorio de Milenio Comunicaciones (PAT televisión y Milenio Radio), Gerente Nacional Comercial de la red televisiva nacional Bolivisión y Fundador y director general de Es Producciones, de 1996 al 20010. Actividad empresarial que lo llevó a ser presidente de la Asociación de empresarios jóvenes de Cochabamba (ASEMJOC) por aclamación y distinguido por la Cámara Junior Internacional con uno de los 3 premios "Jóvenes destacados del mundo" en la categoría "Logros empresariales y económicos" en el año 2003
Recibió condecoraciones de la Gobernación de Cochabamba, Aldeas Infantiles SOS, Universidad de Aquino Bolivia, Mesa redonda Panamericana, Fundación de ayuda contra el cáncer, entre otras.
English
Guillermo Estrugo Nery was born in Cochabamba, Bolivia and sealed in the Cochabamba Temple to Alicia Perez Rivera. They have 4 children: Santiago (15), Caleb (12), Amir (9) and Canella (7).
He studied Economics at the University of San Simón in Cochabamba, and has a Degree in Communication and Journalism, as well he has a degree in Management and Public Administration with honors from the Universidad Privada del Valle. He has a Master's degree in Corporative Communication from Universidad de Barcelona, Spain.
He is one of 20 Fellows of the Intercultural and Interreligious Dialogue program 2022 from the interstate KAICIID based in Lisbon Portugal.
He is a member of the Inter-American Press Association (IAPA). Vice President of the interreligious council of Peru; member of the Latin American committee of Religions for Peace and member of the Advisory Council of the IRI (International Interreligious Initiative for Tropical Forests)
He was a presenter, broadcaster and director of radio and television programs on major networks like ATB and Bolivisión from 1996 to 2010. While serving as a journalist, he was also the chairman of Millenio Communications, the National Commercial Manager of Bolivisión network and the General Director of Es Productions from 1996 to 2010.
He has been the presenter or master of ceremonies at more than 800 events.
He has received awards from the Governor of Cochabamba, Infant Houses (Aldeas Infantiles) SOS, the University of Aquino Bolivia, the Panamerican Round Table Foundation, and the FUNAC Fundación de ayuda contra el cáncer, among others.
He was unanimously voted President of the Association of Young Businessmen of Cochabamba and recognized by the International Junior Chamber with one of three "Youth leading the world" awards in the category of "Business and Economic Achievement" in 2003.