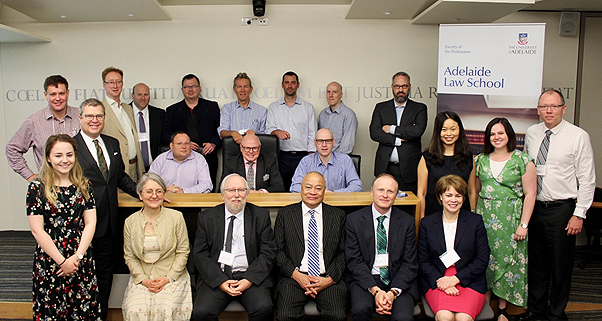 From 14 to 16 February 2018, Professor Brett Scharffs, Director of the International Center for Law and Religion Studies, and Center Senior Fellow, Neville Rochow SC, participated in a major conference in Sydney and Adelaide Australia. The conference featured leading academics and experts from Australia, the Pacific, the United States, Canada, the United Kingdom, and the European Union, addressing the conference theme: 'Freedom of Religion or Belief: Creating the Constitutional Space for Other Fundamental Freedoms'.
The Center partnered in the conference with the University of Adelaide Law and Religion Project, Research Unit for the Study of Society, Ethics and Law and University of Notre Dame of Australia, Sydney School of Law. Its key organisers were Neville Rochow SC and Professor Paul Babie of the University of Adelaide. The first two days of the conference were held at the Sydney campus of the University of Notre Dame of Australia. The last day was held in the Moot Courtroom of the Adelaide Law School.
The timing of the conference came at a critical point in Australia's constitutional history: the Australian Prime Minister has recently appointed an expert panel to report on whether and how Australia should change its laws to better allow for freedom of religion or belief. That Panel is due to report in early April 2018. The Panel approached the conference organisers to have a roundtable session on the subject with leading academics and other experts who were present at the conference. Both Professor Brett Scharffs; and Senior Fellow and Neville Rochow SC from the Center were among those specifically asked to make oral submissions to the Panel during the roundtable session. Neville Rochow was asked to make the first oral submissions at the roundtable session. Subsequently, one of the Panel members approached separately him to inquire about his experiences in the European Union with Article 17 of the Lisbon Treaty. The Panel was particularly interested in Professor Scharffs' experience in the United States and asked him to expand upon the politicisation of freedom of religion that had occurred there.
Soon after the conference, the organisers received an invitation from the European Parliament to express interest in a research project with the European Parliament and to consider the possibility of participating with the Parliament in a conference in Brussels.