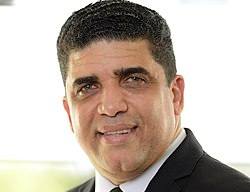 Dioris Anselmo Astacio Pacheco, also known as Dío Astacio, is a Christian pastor, communicator and Dominican lawyer, and an author of books and motivational conferences. He participated in the May 2016 elections as a candidate for mayor for the municipality of Santo Domingo Este .
He studied Criminal Law at the Eugenio María de Hostos. He completed a Master's Degree in Marketing Management, a Master's Degree in Business Administration MBA at the UQAM University of Canada and Apec University, and a Master's Degree in Leadership for Public Management and Political Campaign Strategies at Barna Business School and Georgetown University. During the years 2000 and 2001 he was a professor in marketing at the Apec University in the Dominican Republic.
His professional life is closely linked to the religious, business and political areas. He is the founder of two Christian congregations, one of them belonging to the Christian and Missionary Alliance. He started as a life insurance salesman in the 1990s, climbing over the years to managerial, business leadership, and executive vice president positions in insurance companies, commercial banking, and telecommunications. In 2001 he dedicated himself to developing a record promotion work under the label "Maná Music Group" with the aim of promoting young people in the Christian musical field.
In 2008 he released his first book entitled Integral Success, Ten Hidden Laws with which he also developed the National Day of Integral Success Leadership for public school students and the campaign "The value is in you" at the national level with the Dominican Navy. He has written seven books in English and Spanish. He has also been an announcer and producer of radio programs.