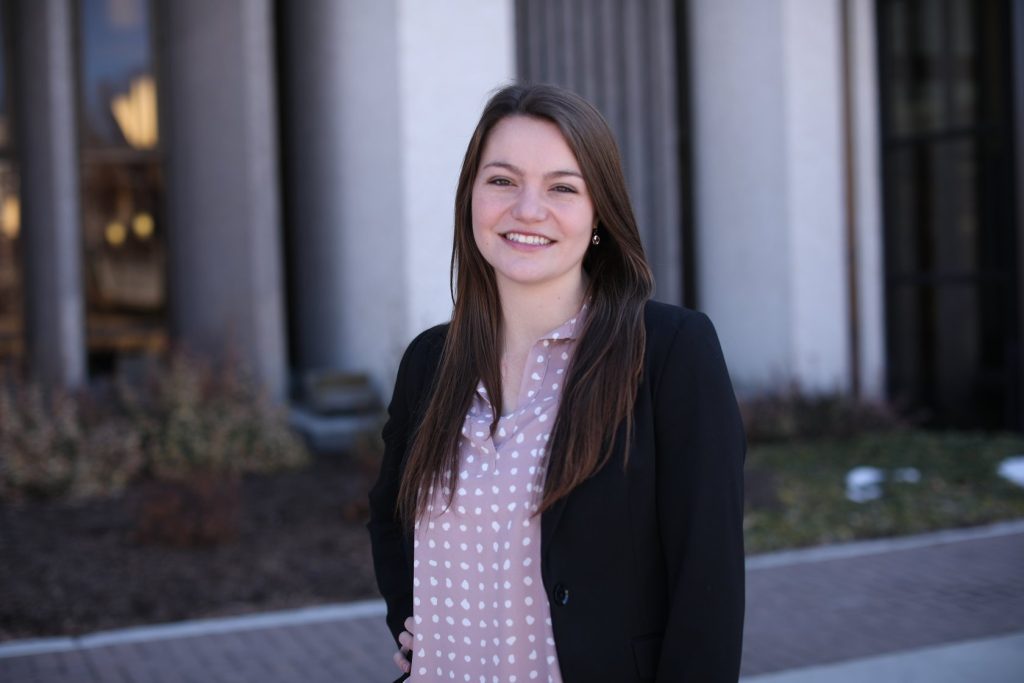 For the first time since the creation of the contest, the 12th Annual Religious Liberty Student Writing Competition, held in 2021, was won by a BYU law student, Morgan Farnsworth. The contest is sponsored by BYU Law School's International Center for Law and Religion Studies and the J. Reuben Clark Law Society. 
Morgan Farnsworth, a third year law student, was awarded $4,000 for her essay on governments' tendencies to limit religious freedom in response to national security threats. 
"The government is scared of groups that profess an allegiance to something that they deeply believe in and are deeply committed to that isn't the state," said Farnsworth. She explained that the strong allegiance of devotees to their religion can be particularly scary for governments having security struggles. "Cracking down on some expressions like the basic right of freedom of religion or belief seems like a quick and easy way to reassert some sort of control or reestablish security in a country."
The essay was originally written for Brett Scharffs, director of the ICLRS. Professor Scharffs had been invited to write a chapter in a book that focused on this particular area of law in different countries and Farnsworth was asked to write an overview for the book. While the book did not end up being published, Farnsworth was still able to put her essay to good use by submitting it to the religious freedom writing competition. 
Farnsworth first gained an interest in freedom of religion or belief while serving as a missionary for The Church of Jesus Christ of Latter-day Saints in Russia. During her time in Russia, the government made changes to its proselyting laws and effectively outlawed missionary work. All of a sudden, Farnsworth became a missionary in a country that didn't allow missionaries. 
"For the first time in my life I got to see, albeit on a really small scale, what it's like to not be able to fully practice or share or express your religion," she said. "It made me very aware of the fact that there are people who experience this on a daily basis because of various laws or conditions or restraints that their governments have placed on them or on religion and I wanted to help put an end to that."
Farnsworth has worked with ICLRS Associate Director Elizabeth Clark on several projects relating to religious freedom in post-Soviet countries. She also participated in the Center's 2020 Summer Research Fellow program, focusing on affairs in Russia. 
"International religious freedom is my area of interest, I don't think I can say expertise yet, but I hope that it will be one day," said Farnsworth.