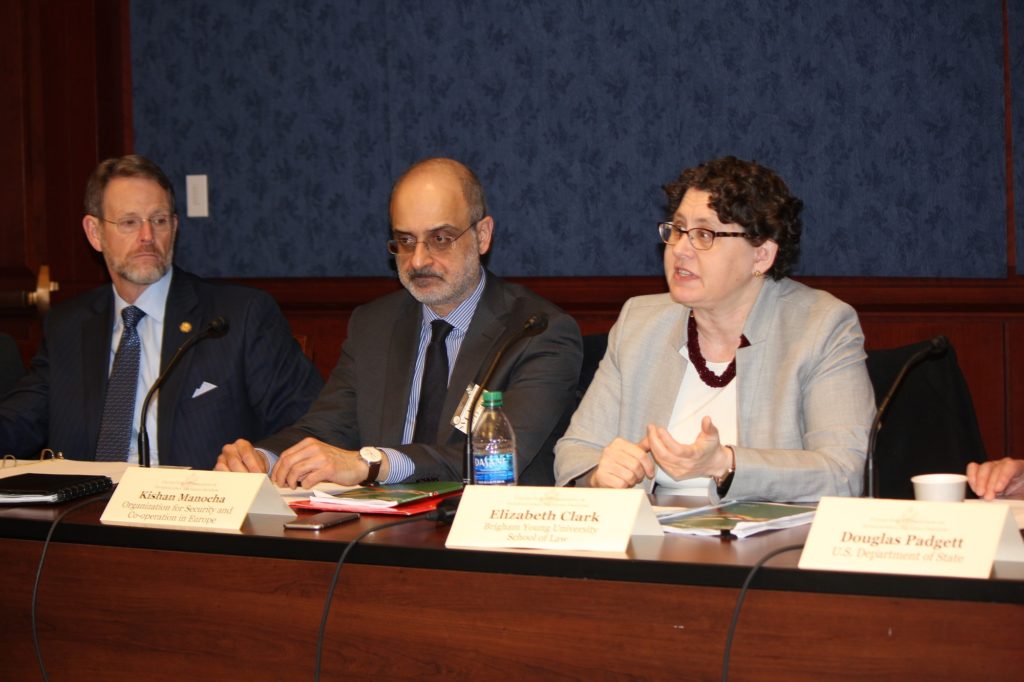 On 11 February 2020 in Washington, D.C., the U.S. Commission on International Religious Freedom (USCIRF) held a briefing on the nexus of freedom of religion or belief and security, including findings from the Organization for Security and Co-operation in Europe's (OSCE) Office for Democratic Institutions and Human Rights' (ODIHR) recent publication, Freedom of Religion or Belief and Security: Policy Guidance. ICLRS Associate Director Elizabeth Clark joined Kishan Manocha, Senior Advisor on Freedom of Religion or Belief, OSCE/ODIHR, and Douglas Padgett, U.S. Department of State Official, on a panel. Remarks were given by Tony Perkins, USCIRF Chair, and Gayle Manchin, USCIRF Vice Chair.
In the OSCE region, freedom of religion or belief (FoRB) is violated by some governments who use the pretext of national security to justify repression. For example, in Russia's Tatarstan region, cameras are installed in mosques to transmit videos of worshippers during their prayers to state security services. In Uzbekistan, thousands of religious prisoners remain incarcerated for "extremism" or the possession of "extremist" religious literature. In Azerbaijan, authorities continue to deny legal registration to Baptists and Jehovah's Witnesses residing outside the capital. Although these actions aim to improve security, failure to balance security with freedom of religion or belief can actually undermine it.
Freedom of Religion or Belief: Policy Guidance clarifies the interrelationship between FoRB and security as mutually reinforcing objectives, in line with the OSCE's comprehensive framework for peace and security. The document includes guiding principles, practical guidance, and recommendations to address pertinent issues at the intersection of the freedom of religion and security, including the registration of religious communities, religious literature deemed "extremist", the monitoring of places of worship, and restrictions on conversion.
Panelists presented the policy guidance document, discussed its findings and recommendations, further explored the intersection of security and FoRB, and considered tools and strategies for governments and other relevant stakeholders to advance both objectives simultaneously. The panel was followed by an interactive question and answer period with audience members.