Workshop: Fostering Faith and Community at BYU with LGBTQ Students – Julie L. Franklin, Benjamin Schilaty, Jordan Sgro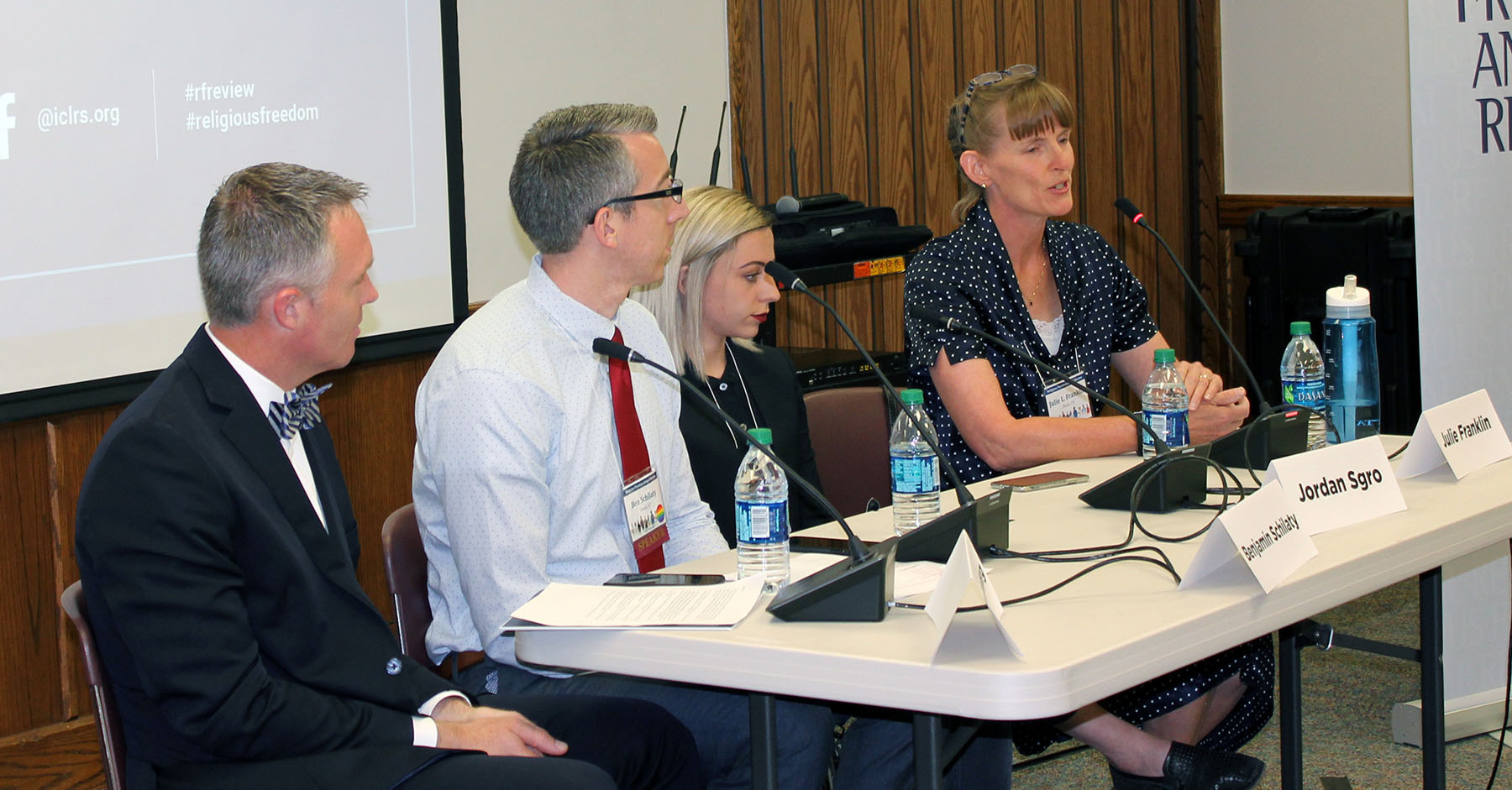 by Chase Olsen, 2018 ICLRS Student Fellow
A panel discussion on Fostering Faith and Community at BYU with LGBTQ students was moderated by Steve Sandberg, Deputy General Counsel at BYU. The panel consisted of Jordan Sgro, Benjamin Schilaty, and Julie Franklin.
The panel displayed an attitude of hope and optimism for BYU to continue to improve its relationships with LGBTQ students and faculty. Jordan Sgro, Chief Program Officer at Encircle, an LGBTQ+ Family and Youth Resource Center in Provo, encouraged the BYU community to ask questions and seek to understand the LGBTQ students' experiences. Sgro shared a quote from Elder Jeffrey R. Holland of the Quorum of the Twelve Apostles for the LDS church, stating, "We need to listen to and understand what our LGBT brothers and sisters are feeling and experiencing."
To foster that understanding, Sgro encouraged each person to be honest and verbally address the obstacles that stand in the way of understanding with their LGBTQ friends and acquaintances. Sgro recommended that BYU students and faculty, in a kind and sincere manner, let LGBTQ students know what is difficult about discussing these issues. "When you know someone is LGBTQ, but don't know how to help or even talk to them about it, tell them," encouraged Sgro. "Say it's hard. Ask them to meet you halfway."
Adding to Sgro's invitation to listen and understand, Benjamin Schilaty, an adjunct Spanish professor at BYU, discussed listening and understanding in the context of the LDS church's aspiration to be of "one heart and one mind." To Schilaty, that aspiration doesn't necessarily mean that we all think the same things or have the same experiences. Rather, he believes that "to be a Christ-centered community, we need to know what is in each other's minds and hearts." And that requires all people in the BYU and LDS community to be willing to ask questions.
Julie Franklin, Director of Residence Life at BYU, shared her experience in working with LGBTQ students. "Over the years, I received grace from the LGBT students I worked with. They helped me understand and know when the things I said or the questions I asked were insensitive or unhelpful. And they helped me along the way." At BYU, where student housing is separated by gender, Franklin has been able to help LGBTQ students find housing that appropriately accommodates their needs. Franklin has seen, through her own experience, that it is possible to progress and improve our ability to understand and build faith and community with our LGBTQ. "Ten years ago, it is possible that someone might have looked at me and thought, 'that person is homophobic' but I believe that has changed. And I have had wonderful experiences with LGBTQ students."
Other progress has been made at BYU. Schilaty said that this past semester he was able to share with his students that he was an openly gay man in the LDS church. And he received no complaints and had no issues. Sgro said that the fact that she, a woman married to another woman, was able to openly participate and lead that discussion is evidence of progress. Both Schilaty and Sgro believe that even a short time ago, those things would not have likely been possible at BYU.
The panel finished by saying that as we move forward in fostering faith and community with LGBTQ students at BYU, patience and forgiveness will the key to success. Schilaty and Sgro both shared positive experiences of coming out to individuals while they were at BYU. But they also shared some negative experiences from their journey. And that is where patience and forgiveness comes in. "It's easy to forgive people when they are sorry," said Schilaty. "But they won't always be sorry. And Instead of condemning someone when they treat you inappropriately, forgiveness is needed." Schilaty encouraged all to signal to others that you are a safe person to talk to about coming out or other LGBTQ issues. And he encouraged people in any situation to be forgiving and patient as we move forward in fostering faith and community at BYU.