Wishing You Peace at Easter Time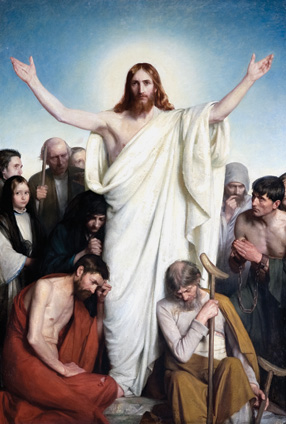 23 April 2011 – Provo, Utah
"Freedom of religion matters, even if you're not religious," wrote Mark Milke for the 23 April 2011 edition of the Calgary Herald ("proudly Calgary since 1883"). "Westerners," wrote Mr. Milke, "especially where state and religion are practically separate (in Canada and Europe), or constitutionally separate (the United States), often forget that freedom of conscience and expression is not the norm around the world."
Is it truly important that we do not forget this? We at the International Center for Law and Religion Studies devote our lives to answering yes to this question, and attempting to help others promote and secure such freedom for everyone, everywhere. For us, the most sacred day of the year is the Sunday celebrating the morning when Mary, going to attend to the body of her Master, beheld the empty tomb, and an angel declared, "Behold He is not here, for He is risen," and then Jesus himself beckoned Mary, adding a beautiful new dimension to His invitation: "Come, follow me." We are grateful beyond measure that we are able to celebrate this event, freely and openly, as individuals and in congregation with other members of our faith tradition worldwide.
Surely, we know that evil can be done, has been done, in the name of religion. But evil is not what religion, pure religion, is about. If Christians have been guilty of such evil, they have forgotten their instructions: "Pure religion and undefiled before God … is this, To visit the fatherless and widows in their affliction, and to keep oneself unspotted from the world." (James 1:27)
As a Christian on the eve of Easter, when I celebrate the triumph over sin and death accomplished by the One whom I revere as the Savior of the world, I think both of the gratitude I feel for Jesus Christ and of what I am asked to be and do as a disciple of Christ. "Come unto me, all ye that labour and are heavy laden," He invites, "and I will give you rest. Take my yoke upon you, and learn of me; for I am meek and lowly in heart: and ye shall find rest unto your souls. For my yoke is easy, and my burden is light." (Matthew 11: 28-30)
If I have grown up in the warmth of such comfort, finding it easy to love such a God, I also have been aware of what devolves upon me because of my love for Jesus Christ: "If ye love me, keep my commandments. …. A new commandment I give unto you, That ye love one another; as I have loved you, that ye also love one another." (John 14:15, 13:14)
I know that this is not the only way to be good and to do good, not the only way to live a rich and productive life. But it is my way. The example of Christ has guided my life from my childhood, and I am profoundly grateful for the freedom to worship Him according to the dictates of my own conscience. My ancestors sacrificed a great deal to secure this blessing for themselves and their posterity, and for all others who come under the laws of the United States of America. I think I must not take this sacrifice for granted.
Wishing you peace, whatever your beliefs, wherever you may be.
Donlu Thayer, Managing Editor
In behalf of the International Center for Law and Religion Studies
Note: A year after the Calgary Herald began publication, the Danish painter Carl Bloch completed "Christus Consolator," which is among the Bloch pieces now on exhibit at Brigham Young University's Museum of Art. The photo of the painting reproduced here, with the accompanying caption, is taken from the online program from the MOA exhibit, "The Master's Hand."