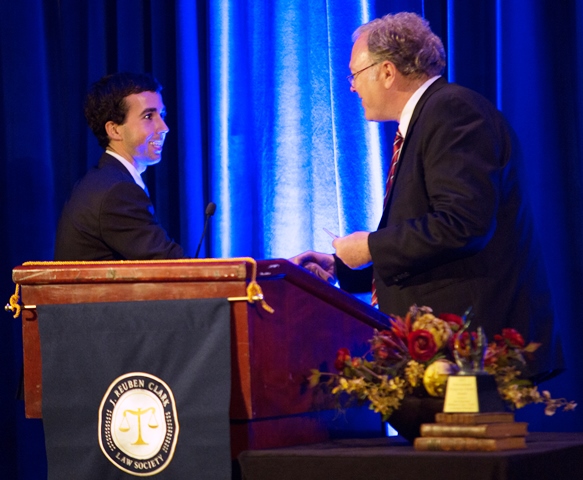 The Mid-Atlantic Chapter of the J. Reuben Clark Law Society and the International Center for Law and Religion Studies of Brigham Young University are pleased to announce the winners of the Sixth Annual Founding Fathers Religious Liberty Writing Contest.
The following students were honored at an Awards Dinner held at the Mayflower Hotel in Washington, DC on 8 October 2015.
First Place:Cash Award of $4000 
Nicholas Reaves (University of Virginia School of Law) – "Uniquely Qualified: The Constitutionality of Police and Clergy Alliances"
Second Place:Cash Award of $2000
Ben Adams & Cynthia Barmore (Stanford Law School) – "Religious Sincerity and Hobby Lobby"
Third Place:Cash Award of $1000
Lauren Rennert (Wayne State University Law School) – "Get While the Getting is Good: An Analysis of Civil Remedies as a Solution to the Agunah"
Honorable Mention

John Boersma (St. John's University Law School) – "The Accreditation of Religious Law Schools in Canada and the United States"
Krista Pikus (University of Notre Dame Law School) – "Hopeful Clarity or Hopeless Disarray?: An Examination of Town of Greece v. Galloway and the Establishment Clause"
Zachary Phillipps (University of Connecticut School of Law) – "The Ministerial Exception and the Fair Labor Standards Act"
The purpose of this annual contest is to promote legal and academic studies in the field of religious liberty by law students and students pursuing related graduate studies.
The Awards Dinner was co-hosted by the Clark Society, the ICLRS, The Center for Civil and Human Rights of the University of Notre Dame, the Religious Freedom Project of Georgetown University's Berkley Center, and the Interdisciplinary Program in Law & Religion of the Columbus School of Law at The Catholic University of America.
The event organizers are grateful for the generous support of those who made this event and its awards possible: The Sterling and Eleanor Colton Chair in Law and Religion, the Jack P. Peterson and Maude Birkin Peterson Endowment and other sponsors including Lewis Roca Rothberger; the Wheatley Institution; the Becket Fund for Religious Liberty; Catholic Benefist Association; Polsinelli PC; Hugh and Cindy Redd; Jack and Claudet Gerard; Tate, Bywater, Fuller, Mickelsen & Tull, PLC; LDS Church, Public and International Affairs; and Ralph and Carole Hardy.