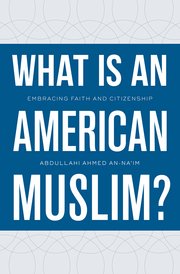 What Is an American Muslim? Embracing Faith and Citizenship
Abdullahi Ahmed An-Na'im
Oxford University Press 2014
Offers an argument for a secular state from an Islamic point of view
Shows that the relationship between religion and the state is the product of historical and contextual negotiation, rather than suggesting a categorical separation between the two
Clarifies and discusses the legal, political, sociological, and demographic context in which American Muslims can affirm their citizenship without diminishing or undermining their religious identity
Since 2001, there has been a tremendous backlash against the very idea that it is possible to be both American and Muslim — the controversy over the so-called "Ground Zero Mosque" and the attempts to ban shari'a law are examples. Even within the Muslim community many leaders urge believers to integrate more fully into the mainstream of American life. Is it possible to be both fully American and devoutly Muslim?
An American citizen born and raised in the Sudan, an internationally recognized scholar of Islam, and a human rights activist, Abdullahi Ahmed An-Na'im brings a unique perspective to this crucial question. By demanding that Muslims assimilate, he argues, allies and critics alike assume that American Muslims are a monolithic bloc, a permanent minority set apart from that which is truly "American." An-Na'im wholeheartedly rejects this notion and urges Muslims to embrace their faith without fear. Islam, he argues, is one of many dimensions of identity — Muslims are also members of different ethnic groups, political parties, and social circles, not to mention husbands and wives, fathers and mothers, baseball fans and movie buffs. In short, Muslims share a vast array of identities with other Americans, but the most important identity they all share is as citizens.
Muslims, An-Na'im argues, must embrace the full range of rights and responsibilities that come with American citizenship, and participate fully in civic life, while at the same time asserting their right to define their faith for themselves. They must view themselves, simply, as American citizens who happen to be Muslims. What Is an American Muslim? is a bold and provocative take on the future of Islam in America.
Abdullahi Ahmed An-Na'im is the Charles Howard Candler Professor of Law at Emory Law, associated professor in the Emory College of Arts and Sciences, senior fellow of the Center for the Study of Law and Religion, and senior faculty fellow of the Emory University Center for Ethics. An internationally recognized scholar of Islam and human rights, An-Na'im is the author of six books, including, most recently, Islam and the Secular State. He is the former Executive Director of Human Rights Watch/Africa.