Wednesday General Session: Finding Common Ground and the Common Good on Religious Liberty and LGBTQ+ Rights – Shapril LoMaglio, Tyler Deaton, William Eskridge Jr., Thomas C. Berg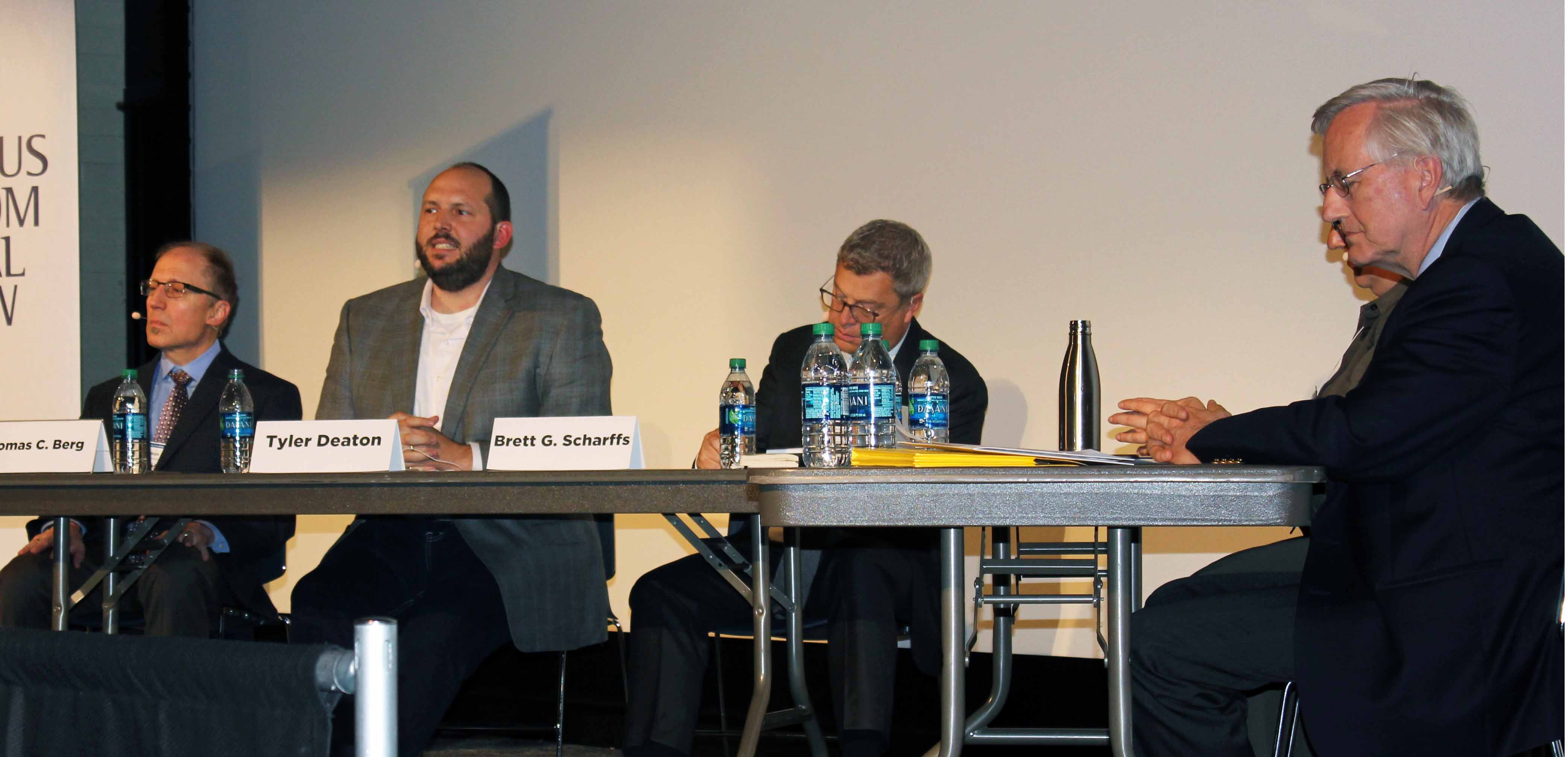 By Bekah Chamberlin, 2018 ICLRS Student Fellow
The Wednesday afternoon general session titled Finding Common Ground and the Common Good on Religious Liberty and LGBTQ+ Rights was moderated by Brett G. Scharffs, Director, International Center for Law and Religion Studies, and Rex E. Lee Chair and Professor of Law, J. Reuben Clark Law School, Brigham Young University. The four speakers were Shapri LoMaglio, Vice President for Government Relations and Executive Programs, Council for Christian Colleges & Universities; Tyler Deaton, President of Allegiance Strategies; William Eskridge Jr., John A. Garver Professor of Jurisprudence, Yale Law School; and Thomas Berg, James L. Oberstar Professor of Law and Public Policy, University of St. Thomas School of Law.
Shapri LoMaglio talked about how religious freedom is on a negative trajectory in the United States which has become culturally individualistic. It is important to protect the ability of individuals and institutions to hold different beliefs, and not just to tolerate those different beliefs but to appreciate them. She spoke of the Utah Fairness for All legislative initiative, and the need to create a space for difference that is appreciated.
Tyler Deaton shared some of his personal experiences in relation to his family responding to his gay marriage, and said in relation to that, "There's less difference than they thought there would be." Deaton also praised the Fairness for All legislation in Utah, and in questioning why no other states have followed this model, proposed that extremists are not invested in a solution or compromise.
William Eskridge Jr., in a provocative presentation, talked about what makes a person's marrow, or their biological, psychological, and spiritual makeup, and included things like race, sex, religion, and sexual orientation. Drawing on the history of the LDS church, he pointed out how much the perspective on LGBTQ+ has changed over the last several decades. He talked about the Constitution giving us a continuum, on one side the private area of human life where people should get to make their own choices and government should not interfere lightly. On the other end is the intensely public area where there is a basic rule of neutrality. There are certain things the government cannot do in terms of excluding without a very good reason. He called the Masterpiece cake shop case a foundational case in this area of finding common ground between LGBTQ+ rights and religious freedom.
Thomas Berg praised the Masterpiece decision as a classic American response of protecting the liberty of both sides. He asserted that religious communities and LGBTQ+ rights activists ultimately have the same argument: a fundamental component of identity and conduct of that identity shouldn't be interfered with by the government. Although his time was limited he did mention the importance of religious communities negotiating exemptions now or face the harshness of having no exemptions later in regards to religious freedom, and that is why it is important to get involved and act now.