Visitors to the Center in 2013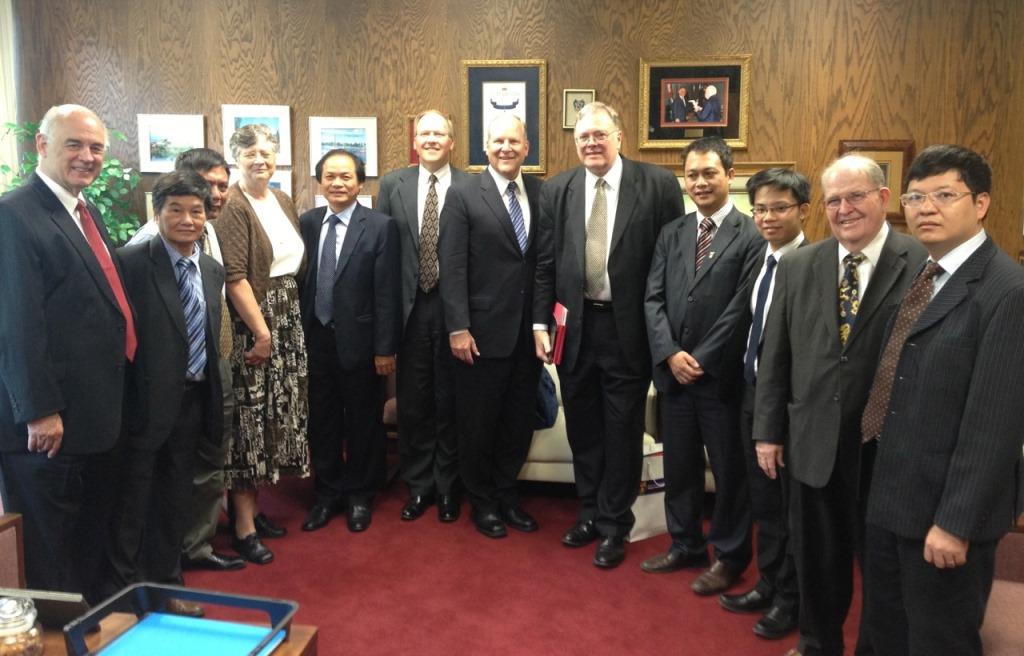 The Center was pleased to welcome a number of distinguished visitors in 2013.
Researchers from China: Jinsong Wu, Doctor of Judicial Science (Jan 2013–Jan 2014); Liang Liang, PhD Candidate (Jan–Apr 2013); Zhang Zheng, PhD Candidate (Jan–Apr 2013)
Delegation from Vietnam (Jun 2013): from the University of Social Sciences and Humanities at the Vietnam National University (USSH/VNA): Hung/Do Quang; Thanh/Pham Quoc; Nguyen Van Hieu; Lam Minh Chau; Nguyen Van Khanh; from the Ministry of Public Security: Nguyen Hung Manh; from Brigham Young University: Sandra Rogers, International Vice President; Erlend 'Pete' Peterson, Associate International Vice President; representatives from the International Center for Law and Religion Studies.
Visit by Mr. Shawn Casey, Head of the State Department Office of Faith-Based Community Initiatives (Nov 2013), accompanied by Jeff Ringer, Director, David M. Kennedy Center for International Studies; Michael Purdy, LDS Church Director of Government Relations in Public Affairs; Lance Walker, LDS Church Public Affairs in Washington, DC
Visit by Dr. George Wood, Chief Executive Officer, Assemblies of God (Sep 2013)
Visit by American Jewish Committee: Rabbi Gary Grenebaum, Rabbi Mark S. Diamond, Doris Haims, Ira Handelman, Daniel Inlender, Joel R. Mogy, Richard Volpert, Barbara Boxer (Aug 2013), accompanied by Matt Ball, LDS Church Public Affairs; Ron Smith, SoCal Public Affairs Council; Dennis Williams, SoCal Public Affairs Council
State Department Visit from Tajikistan (Apr 2013): Mr. Jumakhon ALIMI, Director, Paraldlaks Human Rights Center (NGO); Ms. Gulchekhra KHOLMATOVA, Attorney, Bureau on Human Rights and Rule of Law (NGO); Mr. Umedzhon NIIAZOV, Attorney, Center for Children's Rights (NGO); Mr. Mukhamad ORTIKOV, Imam, Khatib Hoji Abdul-Ali Ibn Abdul-Manon Mosque, Bobojon Ghafurov District; accompanied by Mr. Yves FRANQUIEN, Russian Interpreter; Mr. Igor LEYBZON, Russian Interpreter; Steven and Marjorie Bennion, LDS Church Hosting
State Department Visit from Iraq, Peace and Stability through Conflict Transformation (Apr 2013): Ms. Zaman Moatasem JALAL, Administrative Staff, Office of the Mayor, Kirkuk, Iraq; Mr. Mohamed Tahar KADAOUI ABBASSI, Chief, Service of Social Regional Coordination, Social Action Division, Wilaya of Fez, Morocco; Ms. Sanae MOHIEDDINE, Head, Training and Capacity Building Department, Sale Prefecture, Ministry of Interior, Morocco; Ms. Halima SALAK, Employment Advisor, National Agency of Promotion of Employment and Skills (ANAPEC), Casablanca, Morocco; Mr. Ibrahim Muhmad ENBAWI, Coordinator for Peace Activities, West Bank, Palestinian Territories; accompanied by Ms. Asma Abdi, Arabic Language Interpreter, Mr. Motasem Mansi, Arabic Language Interpreter; Ray and Carol Thomas, LDS Church Hosting
State Department Visit from Iraq, Public Policy for Religious Leaders (Mar 2013): Mr. Hayder Murtadha Ali AFAND, Editor, Journal of Hussein Revivalism; Mr. Huthifa Munaf Abdulmunem AL-MASHHADANY, Senior Advisor Tawafuq Front; Dr. Hafedh Abdulhaleem Hameed AL-YASIRI, Friday Prayer Leader, Omran Bin Ali Shrine, Islamic Supreme Council for Iraq; Hon. Najeeb Abdullah MUHI, Member of Parliament; Mr. Anas Mohammad Sharif TAHIR, President, Islamic Scholars Union of Duhok
Among the objectives of these visits was to sign a first-ever Memorandum of Understanding Concerning Religious Freedom between Vietnamese academic and government representatives and BYU; to conduct research in law and religion; to speak to BYU faculty and students; to examine best practices in the American judiciary system, and the role of the judicial process in the development of civil society; to explore interfaith dialogue and discuss civic contributions of religious organizations in American society; to interact with American legal counterparts, and members or religious organizations; to learn more about the Center, BYU, and the LDS Church; to explore academic and practical trends in conflict analysis, mediation and transformation; to compare conflict transformation, resolution, and mediation techniques, and their situational benefits and challenges; to nalyze causes of conflicts between nations, communities, organizations, political parties, and individuals; to examine the role of foreign policy, international law, bilateral/multilateral treaties, and interfaith efforts in transforming conflict situations.