Vietnam NW Highlands Regional Certificate Training Program on Religion & the Rule of Law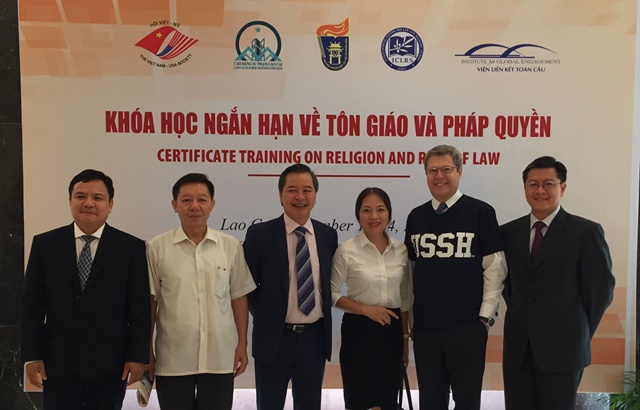 From September 19-24, 2016, the first-of-its-kind regional certificate training program on religion and the rule of law was held in Lao Cai city in the Northwest Highlands region of Vietnam. Although Lao Cai province has a population of only a little over 600,000, it includes 24 of the 54 ethnic groups in Vietnam, and a wide array of religious and linguistic communities.
The program was modeled on successful certificate training programs over the past five years held twice in Hanoi, once in Ho Chi Minh City, and once in Danang. This was the first time the program was designed for a primarily regional rather than national audience. More than 70 students participated in the program, including religious leaders, educators, and government and party officials with responsibilities regarding the regulation and oversight of religion and religious groups. Participants came from ten different provinces in the northwest part of the country.
Two international scholars were invited to participate, Professor Brett Scharffs, Director of the International Center for Law and Religion Studies at BYU Law School, and Professor Eugene Tan, professor of law at the Singapore Management University. The other presenters were Vietnamese professors and experts.
Professor Scharffs presented a series of lectures including:
Why religion and the rule of law? Religious autonomy and the right of self-direction;
An introduction to international human rights approaches to religion and belief;
Translating laws, translating cultures – Comparative approaches to regulating religion and belief: State authority and the rule of law;
Components of a registration system that satisfies international law norms; and
Dialogue on models for good governance of religion.