Vietnam National Assembly Workshop on the Proposed Law on Belief and Religions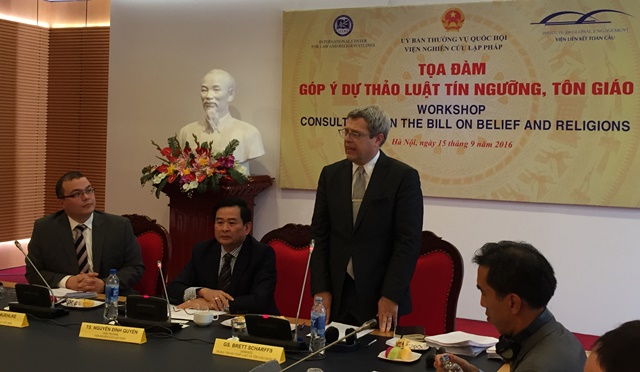 On September 15, 2016, Center Director Brett Scharffs and Emeritus Chief Judge of the 9th Circuit Court of Appeals J. Clifford Wallace were the featured presenters at a workshop organized by the National Assembly of Vietnam on a proposed bill that would regulate religious groups in Vietnam. The two were invited to give foreign scholarly and judicial perspectives on the proposed legislation pending before the National Assembly. Workshop participants were given a Vietnamese translation of the book, Law and Religion: National, International and Comparative Perspectives, written by Professor Scharffs and his Center colleague, W. Cole Durham, Jr.
In his presentation, Professor Scharffs made eight specific recommendations regarding the proposed legislation. These included that the basic goal of the legislation should be to facilitate freedom of religion and belief, while protecting government interests in the actual requirements of public order, public safety, public health, public morals, and the rights and freedoms of others; that the goal of the registration systems should be to make registration and recognition of religious groups as simple and straightforward as possible; that restrictions of freedom of expression and religious persuasion will be met with criticism; that provisions regarding education should differentiate between education required by state law and religious education needed for religious qualifications such as ordination as a minister; that the law should clear differentiate between when permission is required for religious groups to engage in specific activities and when they are required to provide information about their activities and that information rather than permission requirements are usually preferable; that the law should provide clear deadlines for government actions that will promote timely administrative action; that there should be a right to appeal unfavorable administrative and legal decisions; and that ordinary mechanisms of regulation, rather than specialized and extraordinary mechanisms of regulation, are generally preferable.