U.S. State Department Releases July-December 2010 Religious Freedom Report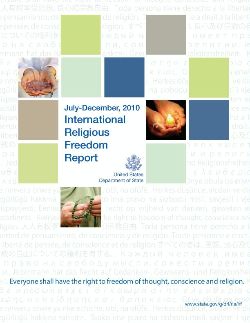 13 September 2011 – Washington, DC
The U.S. Department of State has released the International Religious Freedom Report for July-December 2010. Comments here are excerpted from the State Department website:
This International Religious Freedom Report documents major developments with respect to religious freedom in 198 countries and territories from July-December 2010. The report reflects a broad understanding of universal religious freedom, one that includes the rights to hold private beliefs, including agnosticism or atheism, as well as the right to communal religious expression and education.
The International Religious Freedom Act of 1998 (IRF Act) defines five types of violations of religious freedom: arbitrary prohibitions on, restrictions of, or punishment for (i) assembling for peaceful religious activities, such as worship, preaching, and prayer, including arbitrary registration requirements; (ii) speaking freely about one's religious beliefs; (iii) changing one's religious beliefs and affiliation; (iv) possession and distribution of religious literature, including Bibles and other sacred texts; and (v) raising one's children in the religious teachings and practices of one's choice.
This year's report identifies 17 countries that "face challenges in protecting religious freedom." Of these 8 are identified as "countries of particular concern," designated CPC in the following list: Afghanistan, Burma (CPC), China (CPC), Egypt, Eritrea (CPC), Iran (CPC), Iraq, Nigeria, North Korea (CPC), Pakistan, Russia, Saudi Arabia (CPC), Sudan (CPC), Tajikistan, Turkmenistan, Uzbekistan (CPC), Venezuela, and Vietnam. The Secretary of State has applied sanctions to 6 of the CPCs: Burma, China, Eritrea, Iran, North Korea, and Sudan. For further information about U.S. actions in select countries, see the Executive Summary to the Report.
The Department of State submits this report to the Congress in compliance with section 102(b) of the International Religious Freedom Act (IRFA) of 1998. The law provides that the Secretary of State, with the assistance of the Ambassador at Large for International Religious Freedom, shall transmit to Congress "an Annual Report on International Religious Freedom supplementing the most recent Human Rights Reports by providing additional detailed information with respect to matters involving international religious freedom."
The Annual Report has historically covered a reporting period from July 1of one year through June 30 of the following year. The current Report, however, covers a six-month period from July 1, 2010, through December 31, 2010, because the Department of State is shifting to a calendar year reporting period.
For more information on the preparation of the reports, please see the Preface to the current report. Remarks by Secretary Clinton and by the U.S. Religious Freedom Ambassador, Suzan Johnson Cook, are available at the links below.