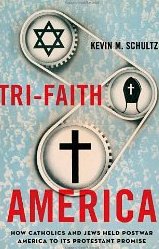 Tri-Faith America: How Catholics and Jews Held Postwar America to Its Protestant Promise
Kevin M. Schultz
Oxford University Press 2011
President Franklin D. Roosevelt put it bluntly, if privately, in 1942-the United States was "a Protestant country," he said, "and the Catholics and Jews are here under sufferance." In Tri-Faith America, Kevin Schultz explains how the United States left behind this idea that it was "a Protestant nation" and replaced it with a new national image, one premised on the notion that the country was composed of three separate, equally American faiths-Protestants, Catholics, and Jews.
Tracing the origins of the tri-faith idea to the early twentieth century, when Catholic and Jewish immigration forced Protestant Social Gospelers to combine forces with Catholic and Jewish relief agencies, Tri-Faith America shows how the tri-faith idea gathered momentum after World War I, promoted by public relations campaigns, interfaith organizations, and the government, to the point where, by the end of World War II and into the early years of the Cold War, the idea was becoming widely accepted, particularly in the armed forces, fraternities, neighborhoods, social organizations, and schools.
Tri-Faith America also shows how postwar Catholics and Jews used the new image to force the country to confront the challenges of pluralism. Should Protestant Bibles be allowed on public school grounds? Should Catholic and Jewish fraternities be allowed to exclude Protestants? Should the government be allowed to count Americans by religion? Challenging the image of the conformist 1950s, Schultz describes how Americans were vigorously debating the merits of recognizing pluralism, paving the way for the civil rights movement and leaving an enduring mark on American culture.
Features

Charts the decline of the potent and relevant idea that the United States is "a Protestant nation."

Deals with religious desegregation within the armed forces, fraternities, neighborhoods, social organizations, and schools.

Addresses the shift from distinctions of religion to those of race in postwar America.