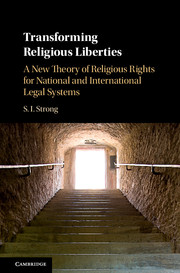 Transforming Religious Liberties:
A New Theory of Religious Rights for National and International Legal Systems
S.I. Strong
Cambridge University Press 2017
Religious liberties are at the centre of many debates on how liberal democratic societies can accommodate diversity. This book considers the interaction between law and religion from a broad international, comparative and jurisprudential perspective and proposes a new theoretical approach to religious liberty that both transcends and transforms current approaches to religious rights. Not only does the discussion draw on the work of a range of legal and political philosophers including John Rawls, Ronald Dworkin and John Finnis, it also tests the validity of the various proposals against actual 'hard cases' derived from multiple jurisdictions. In so doing, the analysis overcomes longstanding challenges to existing religious rights regimes and identifies a new theoretical paradigm that specifically addresses the challenges associated with religiously pluralist societies. Through this type of interdisciplinary analysis, the book identifies a religio-legal system that both religious and non-religious people can support.