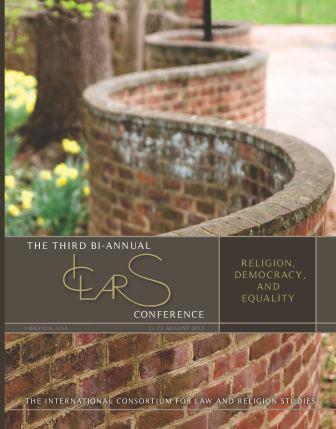 The International Consortium for Law and Religion Studies (ICLARS) held its third bi-annual conference—Religion, Democracy, and Equality—August 21-23, 2013 in Virginia, United States. The conference, organized under the direction of the ICLARS Steering Committee, featured presentations by more than 90 international experts. The keynote address was given by Heiner Bielefeldt, UN Special Rapporteur on Freedom of Religion or Belief.
The International Center for Law and Religion Studies (ICLRS) of the J. Reuben Clark Law School, Brigham Young University, was pleased to play a supportive role in the organization and sponsoring of the conference, under the direction of ICLARS President and ICLRS Director, W. Cole Durham, Jr.
Co-sponsors of the conference included the University of Virginia School of Law, the Institute of Bill of Rights Law of William & Mary Law School, and the First Freedom Center. The organizers extend special thanks to Southern Virginia University and Glade M. and Kathleen Knight.
The organizers of the conference are particularly grateful for the invaluable assistance of attorney Megan Healey Taylor and Southern Virginia University student Nicholas Gaughan, as well as Olga Medina, assistant to Scott Isaacson at Kirton | McConkie Law in Salt Lake City, Utah.
For more information see the the links below.