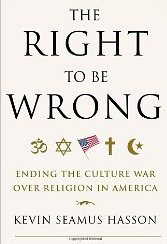 The Right to Be Wrong: Enduring the Culture War over Religion in America
Kevin Seamus Hasson
Random House 2012 (revised edition)
In the running debate we call the "culture wars," there exists a great feud over religious diversity. One side demands that only their true religion be allowed in the public square; the other insists that no religions ever belong there. The Right to Be Wrong offers a solution, drawing its lessons from a series of stories—both contemporary and historica—that illustrates the struggle to define religious freedom. The book concludes that freedom for all is guaranteed by the truth about each of us: Our common humanity entitles us to freedom—within broad limits—to follow what we believe to be true as our consciences say we must, even if our consciences are mistaken. Thus, we can respect others' freedom when we're sure they're wrong. In truth, they have the right to be wrong.
KEVIN SEAMUS HASSON is the founder and President Emeritus of the Becket Fund for Religious Liberty, a nonpartisan, interfaith, public-interest law firm that protects the free expression of all religious traditions. He is a widely respected voice in the media, and has been quoted by The New York Times, USA Today, The Huffington Post, NPR, CNN, Fox, and others. Hasson is the recent recipient of the Heritage Foundation's Salvatori Prize, the Canterbury Medal, and an honorary doctorate from both the Catholic University of America and the University of Notre Dame, where he also holds a law degree and M.A. in Theology. He lives with his wife, Mary, and their children in Fairfax County, Virginia.
"Seamus Hasson is a gifted storyteller who also happens to be a genuine hero of the struggle to make the First Amendment's promise a reality for members of all religious traditions." Mary Ann Glendon, professor of Law, Harvard University
"This is a rollicking, surprising, wholly original way of presenting the rival arguments for religious liberty in public America." – Michael Novak, author of No One Sees God