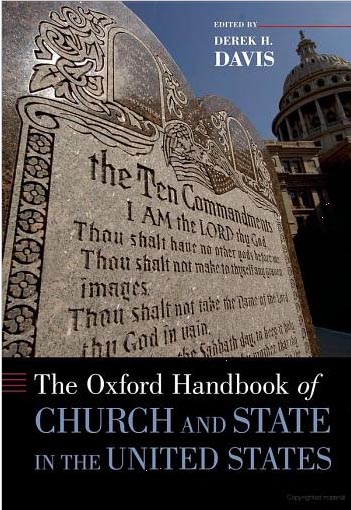 The Oxford Handbook of Church and State in the United States
Edited by Derek H. Davis
Oxford University Press USA, 2010
This Oxford Handbook presents an extensive, multidimensional overview of and an invaluable resource for study of the exceedingly complex field of church and state in the United States. Twenty-one essays offer a scholarly look at the intricacies and past and current debates that frame the American system of church and state, within five main areas: history, law, theology/philosophy, politics, and sociology. These essays provide factual accounts, but also address issues, problems, debates, controversies, and, where appropriate, suggest resolutions. They also offer analysis of the range of interpretations of the subject offered by various American scholars. Among the twenty-one authors represented is Professor Elizabeth A. Clark, Associate Director of the International Center for Law and Religion Studies at Brigham Young University, whose essay "Religious Liberty and Religious Minorities in the United States" is Chapter 10.