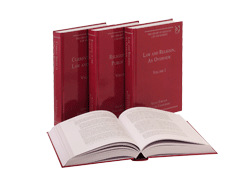 The Library of Essays on Law and Religion
Silvio Ferrari and Rinaldo Cristofori, Series Editors
Ashgate September 2013
This series brings together the most influential and important articles in the field of law and religion from recent decades. The selection provides an insight into the many nuances and particularities of the field and reflects the wide range of issues and views of this growing discipline.
The themes addressed by this series include minorities, geographical particularities, public and private sphere, secularism, apostasy, blasphemy, education and many others. The subjects are presented with different angles and viewpoints to give the readers different solutions to similar issues and offer new perspectives and material on law and religion. In addition, each of the four volumes in the series is thematically arranged to give the reader a clear idea of the different topics within the discipline and an easier access to the subjects.
This four-volume collection offers a complete overview of the current state-of-play in the field of law and religion and provides scholars, researchers and students with an indispensable resource with which to navigate this growing field of study.
The four volumes in this series are:
Volume I: Law and Religion: An Overview
The focus of this volume is on the historical and geographical elements of law and religion. The collection is unique in that it brings together wideranging case studies and out-of-print papers and is an important resource for established and new scholars in the field. Includes 23 previously published journal articles & 1 new article
Volume II: Freedom of Religion and Belief
The essays and articles selected for this volume analyze what is generally understood by freedom of religion and belief in today's world. The volume reflects legal, philosophical and international perspectives, and offers an effective overview of the current literature and debate in this aspect of the discipline of law and religion. Includes 19 previously published journal articles & 1 new article
Volume III: Religion in the Public Space
Religion in the public sphere is one of the most debated issues in the field of law and religion. This volume brings together articles which address some of the more prominent recent cases relating to religion and education, religion and the workplace, family law and religious symbols. Includes 20 previously published journal articles
Volume IV: Current Issues in Law and Religion
This volume focuses on issues such as freedom from religion, ordination of homosexuals, apostasy, security and fundamentalism, issues that are linked to the common themes of secularism and globalization. The collected essays present multiple points of view and give the reader a sense of the key issues and current debates. Includes 23 previously published journal articles
A 4-volume set is available at a special price.