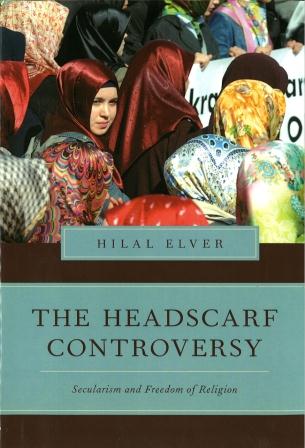 The Headscarf Controversy: Secularism and Freedom of Religion
Hilal Elver
Oxford University Press 2012
Hilal Elver offers an in-depth study of the escalating controversy over the right of Muslim women to wear headscarves. Examining legal and political debates in Turkey, several European countries including France and Germany, and the United States, Elver shows the troubling exclusion of pious Muslim women from the public sphere in the name of secularism, democracy, liberalism, and women's rights.
After evaluating political actions and court decisions from the national level of individual governments to the international sphere of the European Court of Human Rights, Elver concludes that judges and legislators are increasingly influenced by social pressures concerning immigration and multiculturalism, and by issues such as Islamophobia, the "war on terror," and security concerns. She shows how these influences have resulted in a failure on the part of many Western governments to recognize and protect essential individual freedoms.
Employing a critical legal theory perspective to the headscarf controversy, Elver argues that law can be used to change underlying social conditions shaping the role of religion, and also the position of women in modern society. The Headscarf Controversy demonstrates how changes in law across nations can be used to restore state commitments to human rights.
Features
First global examination of the headscarf controversy
Provides sociological, legal, and political perspectives on the headscarf controversy
Shows the crucial influence of the Constitutional Court decisions on the European Court of Human Rights
Reviews
"Hilal Elver's insights into how judicial institutions in Europe have frequently acted 'on behalf of women' in order to 'protect' women from Islam decisively demonstrate how post-9/11 Islamophobia and strident secularism are depriving Muslim women of their citizenship rights and freedoms. The comparative aspect of her analysis regarding judicial decisions related to the headscarf in Turkey, France, Germany, the U.S., and the European Court of Human Rights make this work a critically important contribution to the growing literature on the hijab as a woman's right." —Diane Singerman, Associate Professor of Government, School of Public Affairs, American University
"This analysis of how the headscarf controversy illuminates the ways in which secular states treat Islam could not be more timely. The Arab Spring reopened the question of religion in predominately Muslim countries-a debate in which Turkey seeks a leading role. France has begun fining Muslim women for what they wear. American nativism has provoked controversies over mosque construction and Islamic law. Elver brings a profound understanding of Turkey, Islam, and domestic and international law to bear on these critically volatile issues."
—Richard L. Abel, Connell Professor of Law Emeritus, UCLA
"Rather than just another book on the subject, this is the first book to spell out what is at stake in the headscarf controversy, and to do so with exemplary clarity. It does not just defend a position; it educates the reader in a way that few other books on the subject do."
—Mahmood Mamdani, Executive Director, Makerere Institute of Social Research and Herbert Lehman Professor of Government, Columbia University