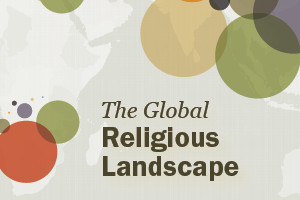 A Report on the Size and Distribution of the World's Major Religious Groups as of 2010
Worldwide, more than eight-in-ten people identify with a religious group. A comprehensive demographic study of more than 230 countries and territories conducted by the Pew Research Center's Forum on Religion & Public Life estimates that there are 5.8 billion religiously affiliated adults and children around the globe, representing 84% of the 2010 world population of 6.9 billion.
At the same time, the new study by the Pew Forum also finds that roughly one-in-six people around the globe (1.1 billion, or 16%) have no religious affiliation. This makes the unaffiliated the third-largest religious group worldwide, behind Christians and Muslims, and about equal in size to the world's Catholic population. Surveys indicate that many of the unaffiliated hold some religious or spiritual beliefs (such as belief in God or a universal spirit) even though they do not identify with a particular faith. The demographic study – based on analysis of more than 2,500 censuses, surveys and population registers – finds 2.2 billion Christians (32% of the world's population), 1.6 billion Muslims (23%), 1 billion Hindus (15%), nearly 500 million Buddhists (7%) and 14 million Jews (0.2%) around the world as of 2010. In addition, more than 400 million people (6%) practice various folk or traditional religions, including African traditional religions, Chinese folk religions, Native American religions and Australian aboriginal religions. An estimated 58 million people – slightly less than 1% of the global population – belong to other religions, including the Baha'i faith, Jainism, Sikhism, Shintoism, Taoism, Tenrikyo, Wicca and Zoroastrianism, to mention just a few.