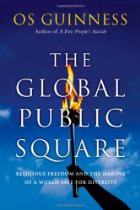 The Global Public Square: Religious Freedom and the Making of a World Safe for Diversity
Os Guinness
IVP Books 2013
How do we live with our deepest differences? In a world torn by religious conflict, the threats to human dignity are terrifyingly real. Some societies face harsh government repression and brutal sectarian violence, while others are divided by bitter conflicts over religion's place in public life. Is there any hope for living together peacefully? Os Guinness argues that the way forward for the world lies in promoting freedom of religion and belief for people of all faiths and none. He sets out a vision of a civil and cosmopolitan global public square, and how it can be established by championing the freedom of the soul—the inviolable freedom of thought, conscience and religion. In particular he calls for leadership that has the courage to act on behalf of the common good. Far from utopian, this constructive vision charts a course for the future of the world. Soul freedom is not only a shining ideal but a dire necessity and an eminently practical solution to the predicaments of our time. We can indeed maximize freedom and justice and learn to negotiate deep differences in public life. For a world desperate for hope at a critical juncture of human history, here is a way forward, for the good of all.
Reviews
"One of the foremost religious-liberty thinkers of our time, Os Guinness sets a soaring goal for this book: establishing a vision of religious freedom ('soul freedom') that accommodates competing truth claims about who man is and why he exists, guarantees freedom and justice, and builds stability amidst a fragile world order. Guinness succeeds magnificently. This book should be required reading for the secularist and the theocrat alike. Its Global Charter of Conscience is a blueprint for all the peoples of the world–both in the West and beyond–struggling to achieve for themselves just and lasting regimes of ordered liberty." (Thomas F. Farr, director, The Religious Freedom Project, Georgetown University's Berkley Center for Religion, Peace, and World Affairs)
"For a generation now, Os Guinness has stood as one of our most consistently prophetic voices. In this latest book he returns to a lifelong concern: the precarious status of religious liberty in a fractured world. Drawing on a breadth of insights from history, philosophy, sociology and theology, Guinness makes a compelling case for the primacy of 'soul freedom' as the only enduring foundation for securing peace and human flourishing in our fractious era of unprecedented pluralism. And he does so in his inimitable way, with passion, eloquence and civility. It is a challenging yet ultimately hopeful message that demands to be heard, and to be acted upon." (William Inboden, University of Texas-Austin, former senior director, National Security Council, the White House)
"Os Guinness consistently tackles salient and difficult issues and, while giving due recognition to their complexity, analyzes them in clear argument and expounds them in lucid prose. In The Global Public Square, he does so again. Contemporary problems of diversity and religious freedom are massive, urgent and growing, but our deep differences are seldom addressed in other than a shallow way. This short but wide-ranging and eloquent defense of freedom of religion and conscience, and civility and plurality–which the author summarizes as 'soul freedom'–provides much needed insight and guidance in our common future." (Paul Marshall, senior fellow at the Hudson Institute and coauthor of Silenced: How Apostasy and Blasphemy Codes are Choking Freedom Worldwide)
"This is a closely reasoned and eloquent defense of religious freedom (Guinness calls it 'soul freedom,' because it refers to the rights of secularists as well as people of faith). This is not just one right among many, but a fundamental right rooted in the dignity of every human being. But it is also a right essential to the maintenance of a public space in which people with widely diverse worldviews can live together with civility. This is a book that should be read by everyone concerned with freedom of conscience, not only in the face of murderous persecution as still exists in many places, but also with the more subtle threats by political orthodoxies in Western democracies." (Peter L. Berger, professor emeritus, Boston University)
About the Author
OS GUINNESS is a philosopher, social critic and prolific author who was born in China and educated in England, and who has worked in the Washington, DC, area for more than 25 years. He has been a freelance reporter for the BBC, a visiting fellow at the Brookings Institution and a guest scholar at the Woodrow Wilson Center for International Studies. In 1991, Dr. Guinness founded the Trinity Forum, which hosts discussions with senior leaders in business and politics. He speaks widely at universities and business and political conferences around the world. He lives in McLean, Virginia, with his wife, Jenny. — This text refers to an alternate Paperback edition.