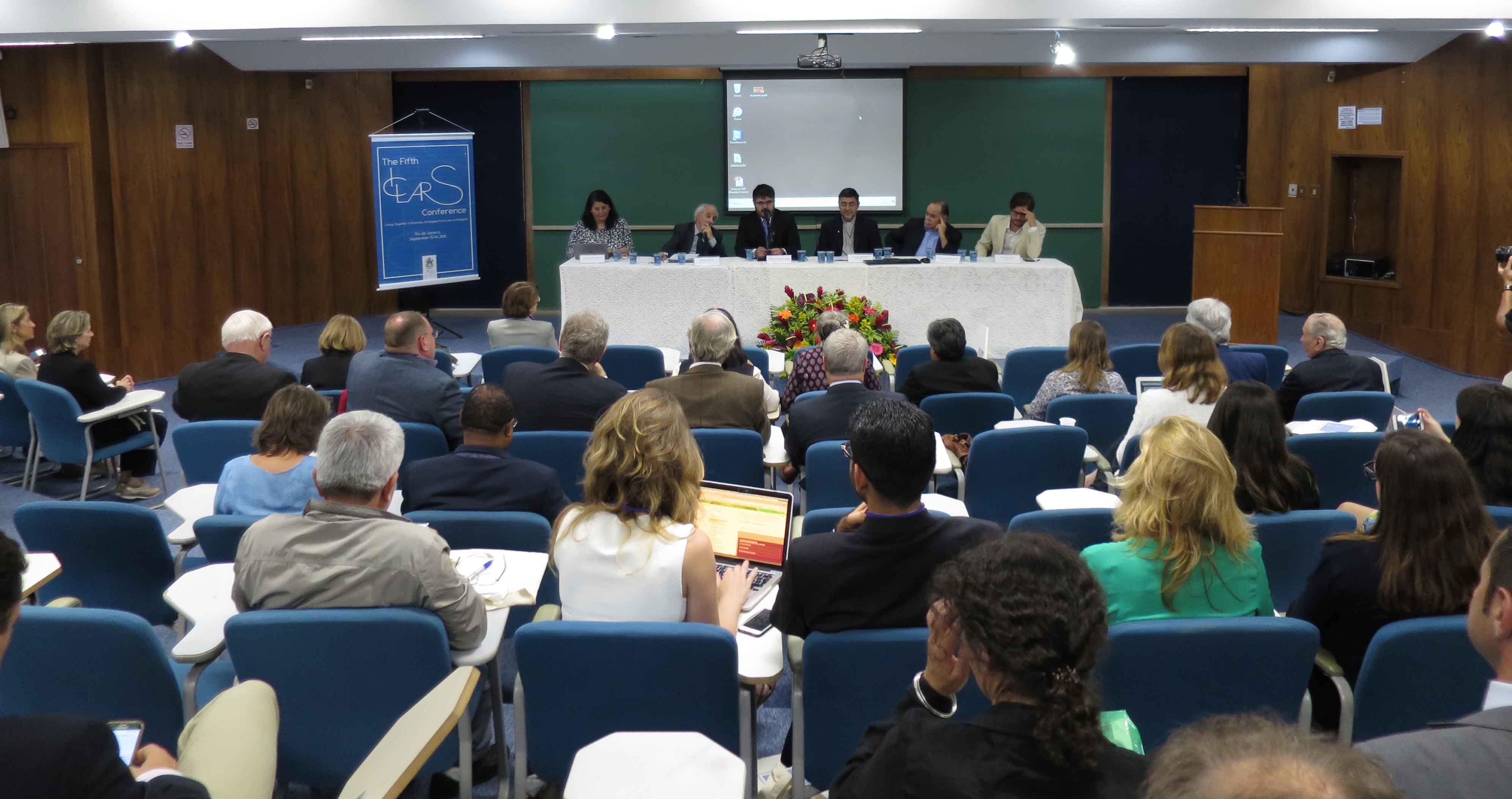 The Fifth Conference of the International Consortium for Law and Religion Studies (ICLARS) was held 12-14 September at the Pontifícia Universidade Católica do Rio de Janeiro (PUC-Rio), Brazil. The theme of the Conference was Living Together in Diversity: Strategies from Law and Religion. ICLRS Director Brett Scharffs (a member of the ICLARS Steering Committee), Founding Director W. Cole Durham, Jr. (Past President of ICLARS), Associate Directory Gary Doxey, Senior Fellow Scott Isaacson, and Publications Director Donlu Thayer (a member of the conference Support Committee), joined some 100 others — from Argentina, Australia, Brazil, Canada, Chile, England, France, Germany, India, Italy, Netherlands, Peru, Poland, Portugal, Qatar, Russia, Scotland, Singapore, South Africa, Spain, Turkey, United States, and Uruguay — making presentations, attending, or providing support for the event.
A highlight of the conference was a Special Session noting the 70th birthdays and honoring the life work of former ICLARS Presidents Cole Durham and Silvio Ferrari. A luncheon event was held launching the newest book in the Routledge ICLARS Series on Law and Religion, Religious Freedom and the Law: Emerging Contexts for Freedom for and From Religion, edited by Brett G. Scharffs, Asher Maoz, and Ashley Isaacson Woolley and developed from papers presented at ICLARS IV in Oxford, UK, in September 2016.
The International Consortium for Law and Religion Studies is an international network of scholars and experts in law and religion begun in 2007 with Professor Silvio Ferrari of the University of Milan as President. The purpose of ICLARS is to provide a forum for exchange of information, data, and opinions among members — at present from more than 40 countries — which can be made available to the broader scientific community. Professor Ferrari (now Honorary President) was succeeded in 2011 as ICLARS President by Professor W. Cole Durham. Jr., of the J. Reuben Clark Law School at Brigham Young University, USA, who was in turn succeeded in 2016 by Professor Ana María Celis Brunet of the Faculty of Law at the Pontifical Catholic University of Chile (Santiago). The ICLARS Steering Committee members, past and present, are eminent law and religion scholars from Argentina, Germany, India, Israel, Italy, South Africa, Spain, and United Kingdom.
This Fifth ICLARS Conference in Rio follows conferences in Milan, Italy (2009), Santiago, Chile (2011), Virginia, USA (2013), and Oxford, UK (2016). Selected papers from the conferences are published as part of the Routledge Series of Law and Religion.