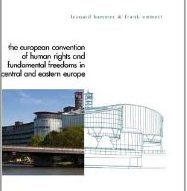 The European Convention on Human Rights and Fundamental Freedoms in Central and Eastern Europe
Leonard Hammer & Frank Emmert, eds.
Eleven International Publishing 2012
From a variety of perspectives, much has been written about the European Convention on Human Rights (ECHR) and the case law of the Court of Human Rights, and yet there seems to be a gap in the literature when it comes to the impact of the Convention in different countries, and on the question of why this impact may differ from one country to another. This book fills the gap with regard to the new Member countries of the Council of Europe (CoE) in Central and Eastern Europe, by way of a comprehensive analysis that provides truly comparable information from nearly all countries in the region. Country reports are included from all ten Central and Eastern European countries that have already joined the EU, as well as most of the other countries in the region that have joined the CoE and have ratified the ECHR after the end of communist party dictatorship. A couple of reports regarding countries that have also emerged from communism, but are not eligible for membership in the CoE, are also included for comparative purposes.