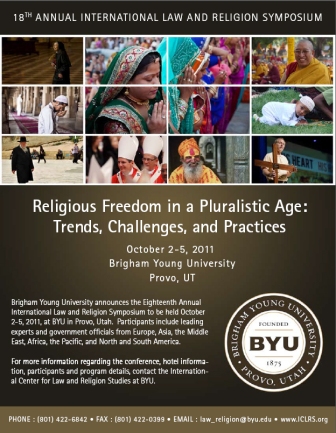 The 18th Annual International Law and Religion Symposium of the International Center for Law and Religion Studies of the J. Reuben Clark Law School took place on the campus of Brigham Young University in Provo, Utah, from October 2 through 4, 2011. This year's conference, "Religious Freedom in a Pluralistic Age: Trends, Challenges, and Practices," welcomed more than 75 participants, representing 37 countries.
The Symposium opened in the Law School's Moot Court Room on Sunday evening, October 2, with an address by this year's distinguished keynote speaker, Zakeria Mohammed Yacoob of the Constitutional Court of South Africa. Sessions continued through Monday and Tuesday and concluded with remarks by ICLRS Director Professor W. Cole Durham, Jr. and a number of other Symposium delegates.
Summaries of some presentations, prepared by volunteers in attendance, are available on this site's Annual Symposium page. Delgates' presentations, including video recordings plenary sessions of the Symposium and audio recordings of all other sessions, as well as papers and PowerPoint presentations, will be available on this site in the weeks following the Symposium.
This year's Symposium occurred just a few weeks before the 30th anniversary of the issuance of the United Nations Declaration on the Elimination of All Forms of Intolerance and of Discrimination Based on Religion or Belief, which was proclaimed by resolution of the General Assembly on 25 November 1981. The 2011 Symposium provided an opportunity for participating scholars, judges, legal professionals, religious leaders, government actors, NGO representatives to reflect upon such hopes and efforts as those set forth in the 1981 Declaration, to ponder the accomplishments, challenges, and plans for the future that face those who are involved with such issues.