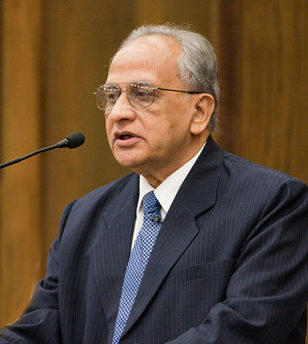 Professor of Eminence in Law & Chairman, Institute of Advanced Legal Studies
Amity University, New Delhi, India
Founder-President, South Asia Consortium for Religion and Law Studies 
Dr. Tahir Mahmood, Former Member, Law Commission of India, is a renowned jurist specializing in Islamic Law, Hindu Law, Religion and Law and Law Relating to Minorities. He has been Dean, Faculty of Law, University of Delhi, Chairman, National Commission for Minorities, Member, National Human Rights Commission and Jurist-Member, Ranganath Misra Commission. Dr. Mahmood is well-known in India and abroad for his expertise in religion and the law, human rights and civil liberties, especially the law relating to the educational rights of Minorities. He is a globally noted authority on Islamic Law, Legal Systems of the Arab World and Hindu Law, subjects on which he has written and edited more than two dozen books and 500 research papers. His academic work which focuses on his progressive interpretation of these laws is widely acclaimed and has been cited by the Supreme Court of India and many State High Courts in more than 50 judgments besides being prescribed by many Indian and foreign Universities for higher legal studies.
He was the first Muslim to be named to the Law Commission of India, an executive advisory body established by order of the Government of India to work for legal reform, and for which he has served as the only permanent member of the Eighteenth Commission, succeed on 1 September 2010 by the Nineteenth Commission. Also in 2010, Dr. Mahmood received the Distinguished Service Award from the International Center for Law and Religion Studies. Earlier that year, in March, Professor Mahmood received the 7th prestigious "Shah Waliullah Award" from the Institute for Objective Studies, for outstanding contribution in the field of Islamic law. The chosen field for the award was "Islamic Law in Comparative Perspective."
Besides receiving many such honors, Dr. Mahmood has inaugurated, attended and presided over numerous international conferences and seminars all over the world and has delivered numerous lectures at internationally renowned Universities including the Universities of Harvard, Cambridge, London, Iowa and many others. As an expert on family laws, he has advised the International Commission of Jurists and many foreign governments. He is associated in different capacities with a number of notable Indian and foreign academic, legal and human rights organizations, prominent amongst them being the International Society on Family Law, Paris, the Vienna Christian-Islamic Round Table, the International Consortium of Religion and Law Studies, Milan, the Institute of Muslim Minority Affairs, Jeddah and the Committee for Drafting the Model Constitution for Islamic Countries, Kuala Lumpur. He is also the academic founder of many law schools in India including the Amity Institute of Advanced Legal Studies of which he is the Honorary Chairman. Professor Mahmood speaks Urdu, Hindi and English and has a fair knowledge of Arabic and Persian.