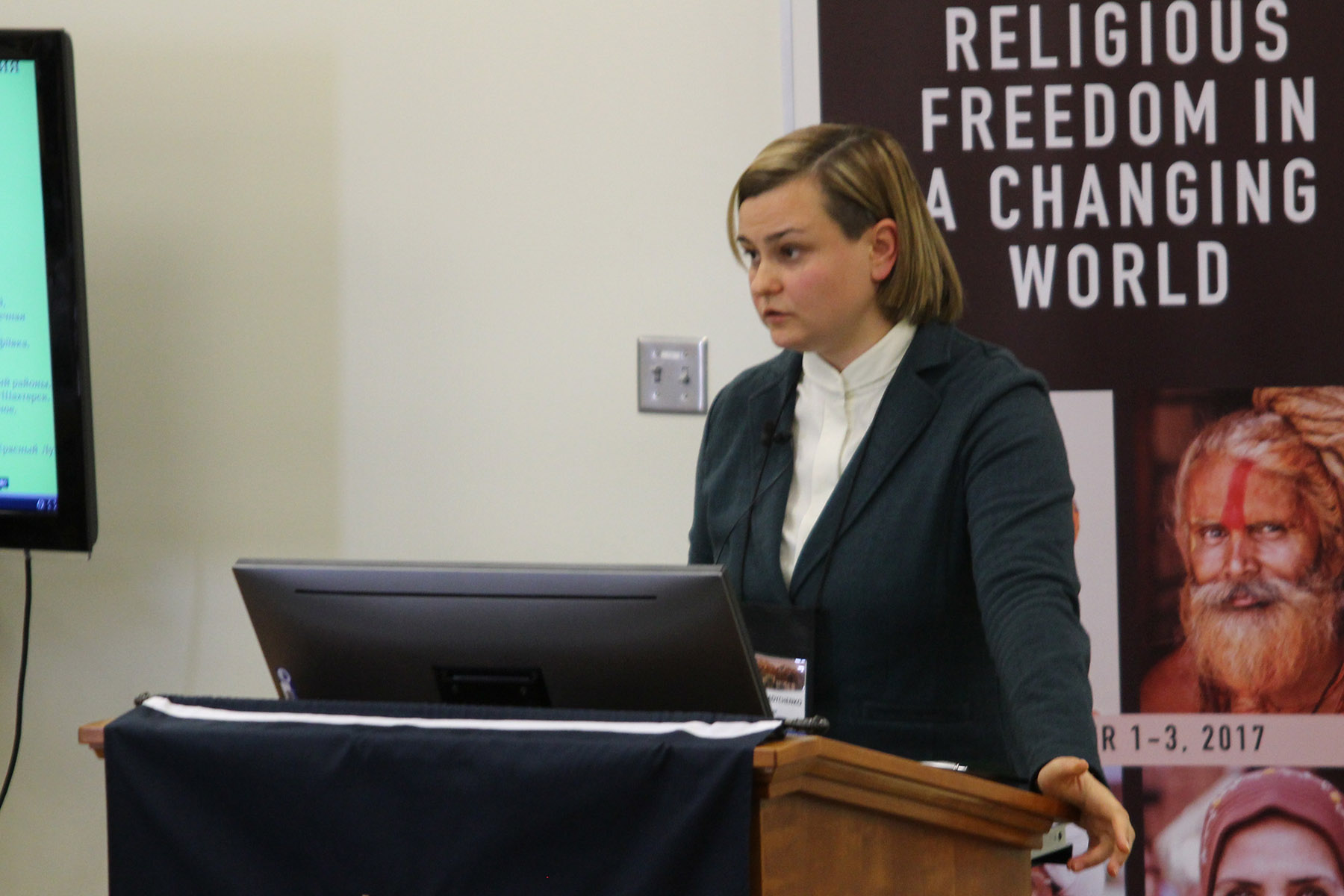 by Malea Moody, 2017 Symposium Executive Committee Member and BYU Law Student
The breakout session about Religious Freedom in Ukraine was held in the afternoon on Monday, October 2, 2017, and was moderated by Celeste Beesley, an assistant professor of political science at BYU. The speakers were Vita Tytarenko, an assistant professor in the Religious Studies Department at the National Academy of Sciences in Ukraine; Larysa Vladychenko, the Deputy Director & an assistant professor of the Religious Affairs Department in the Ministry of Culture in Ukraine; and Dmytro Vovk, an associate professor at Yaroslav the Wise National Law University in Ukraine.
Vita Tytarenko spoke about how Ukrainians are changing how and what they think about religion. She explained that Ukraine is developing as a democratic system still to overcome communism. Most citizens consider themselves citizens of Ukraine, but 8% still consider themselves citizens of the USSR. However, 70% consider themselves religious in some way. The polyconfessionality of their country is continuing to grow, even though 90% of religions consider themselves to be Christian. Tytarenko explained that this is because when part of the secular USSR, there was a large withdrawal from Greek Orthodox churches and Islam. She also explained that during the Euromaidan revolution, people recognized contradictions in the church structure. Citizens wanted to know the difference between formal, state leaders and religious leaders. Even with this, it has been found that most people still trust the church. Tytarenko then explained some of the more recent challenges towards religions freedom. First, the annexation of Krimea has changed Religious Freedom in unexpected ways. There has been an increase in competition between religions, and less people recognize the church as a moral authority. Second, churches trying to claim property has become a large reason for conflict, as well as political disagreements. Third, militants of two extremist groups (Donetsk People's Republic and Luhansk People's Republic) continue to threaten and kill pastors, priests, and Christians in the areas that they control. Tytarenko closes saying that these problems can only be fixed by help from the international community.
Larysa Vladychenko focused on activities of state bodies forming policies that affect religions. Religious affairs have gone through multiple departments over the years. It spent time in the Ministry of Justice and then the office of the Prime Minister. Today the functions belong in the Ministry of Religious Affairs of Ukraine. Vladychenko also explained that the government still possess a lot of the property that belongs to churches—about 80% of the religions have not received their property. Churches often have to share property to carry out their services, which has created interconfessional conflict over who actually owns the property. To finish, Vladychenko explained that when citizens are asked about religion, they say that religion should only be allowed to exist if standards of general goodness are promoted.
Dmytro Vovk closed the session with his remarks.