Symposium 2017: Religion and Pluralism in a Changing World: Latin America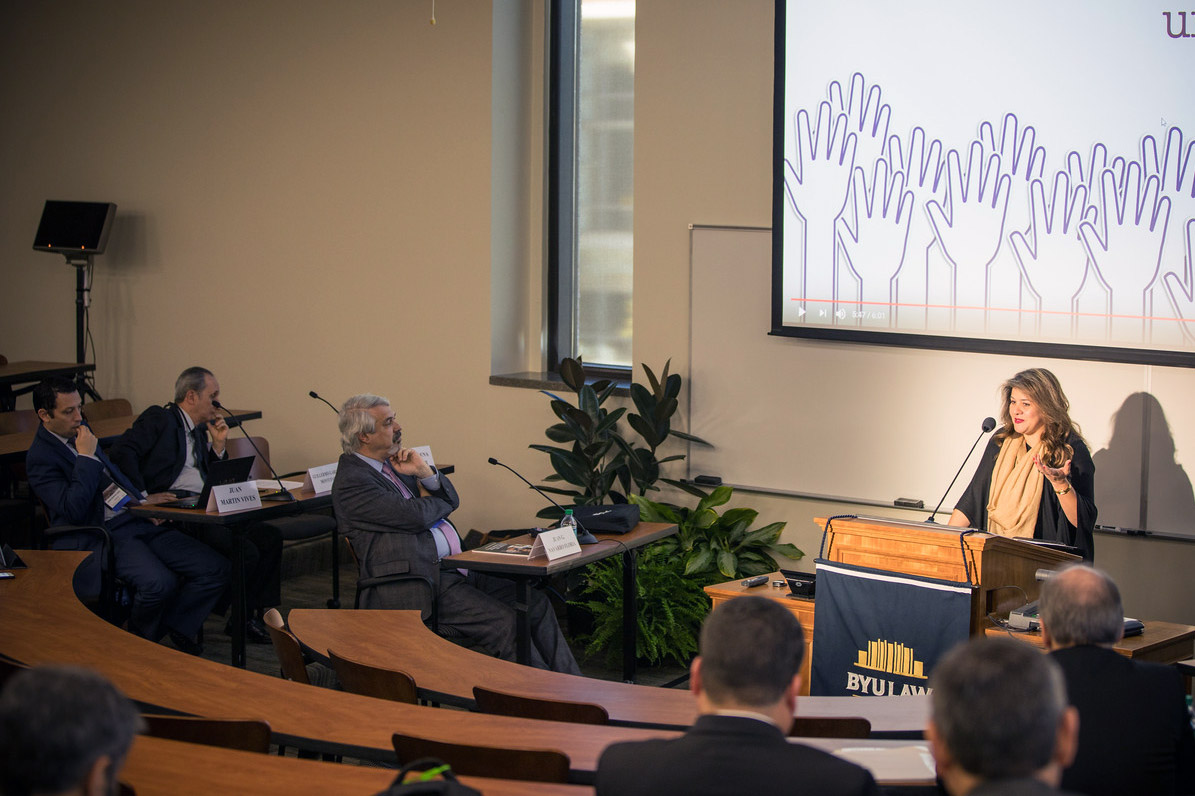 by Malea Moody, 2017 Symposium Executive Committee Member and BYU Law Student
This breakout session was held in the morning on Tuesday, October 3rd, 2017. The session was moderated by Juan G. Navarro Floria, a professor of law at Pontificia Universidad Catolica in Argentina. The speakers were Beatriz Lorena Rios Cuellar, an advisor in religious affairs at the Ministry of the Interior in Columbia; Guillermo Garcia Montufar, a professor at Universidad de Lima in Peru; and Juan Martin Vives, a professor at Universidad Adventista de La Plata in Argentina.
Beatriz Lorena Rios Cuellar presented on how Columbia's government has worked to protect religious freedom. In 1991 Columbia began to have Freedom of Religion by statute. It consecrates the country to God. The public powers guarantee the country the freedom of religion, specifically stating autonomy from government and immunity from government actions. In 1994 Law 133 was passed clarifying that religious freedom is a fundamental right. Not until 2015 did they pass the law that brought together competent entities to help promote and recognize ways society can help religious freedom progress. There are five ways that they are working to promote it. First is freedom of religion, worship, and conscience, promoted through tax benefits, urban planning rules, and legal personalities; second, citizen participation and social impact; third, peace with a territorial focus; fourth, education and formation of Religious Freedom; fifth, working through international and inter-religion contacts for development. Ms. Rios Cuellar also explained that not just religions benefit from religious freedom. Respecting these freedoms leads to a strengthening of private rights.
Guillermo Garcia spoke about how religious freedom is developing in Peru. He explained that religions have always been required to register to be recognized by the government, but didn't have much freedom. Then, in 1997 the head of Peru's Ministry of Justice was invited to the ICLRS religious symposium, held in Provo, Utah. The man was very impressed with what he saw and learned, and returned to Peru to organize a religious symposium in Peru the following year. Peru began inviting people from all over the world to come and help them write a law about religious freedom for their country. In December of 2010 a law was presented and put into effect. However, it failed because the requirements to be recognized as a religion were too strenuous. Last year, they redid the law, making it easier for religions to register. Now the religion must exist in Peru for seven years before they are able to register. They also provided in the legislation that if the religion registered in 2010, they didn't have to re-register.
Juan Martin Vives presented on the secularization of society, the diversity of religion, and promotion of minority rights, specifically of homosexuals and indigenous people in Argentina. He said that many of the issues seen as problems of religious freedom are not actually problems for religion. He also said that as believers in a faith, we must recognize that we cannot force our beliefs on society. Religious freedom should not be considered a sword but rather a shield to protect believers and maintain a space for them. The examples that were given were homosexual marriage, gender identity, and the decriminalization of abortion. He asked the audience to consider if these are truly religious freedom problems at the core. After, he explained that for religious believers to secure freedom, they need to start focusing on their own problems now, to focus rather on strengthening their rights rather than preventing the rights of others.