Symposium 2017: Laos People's Democratic Republic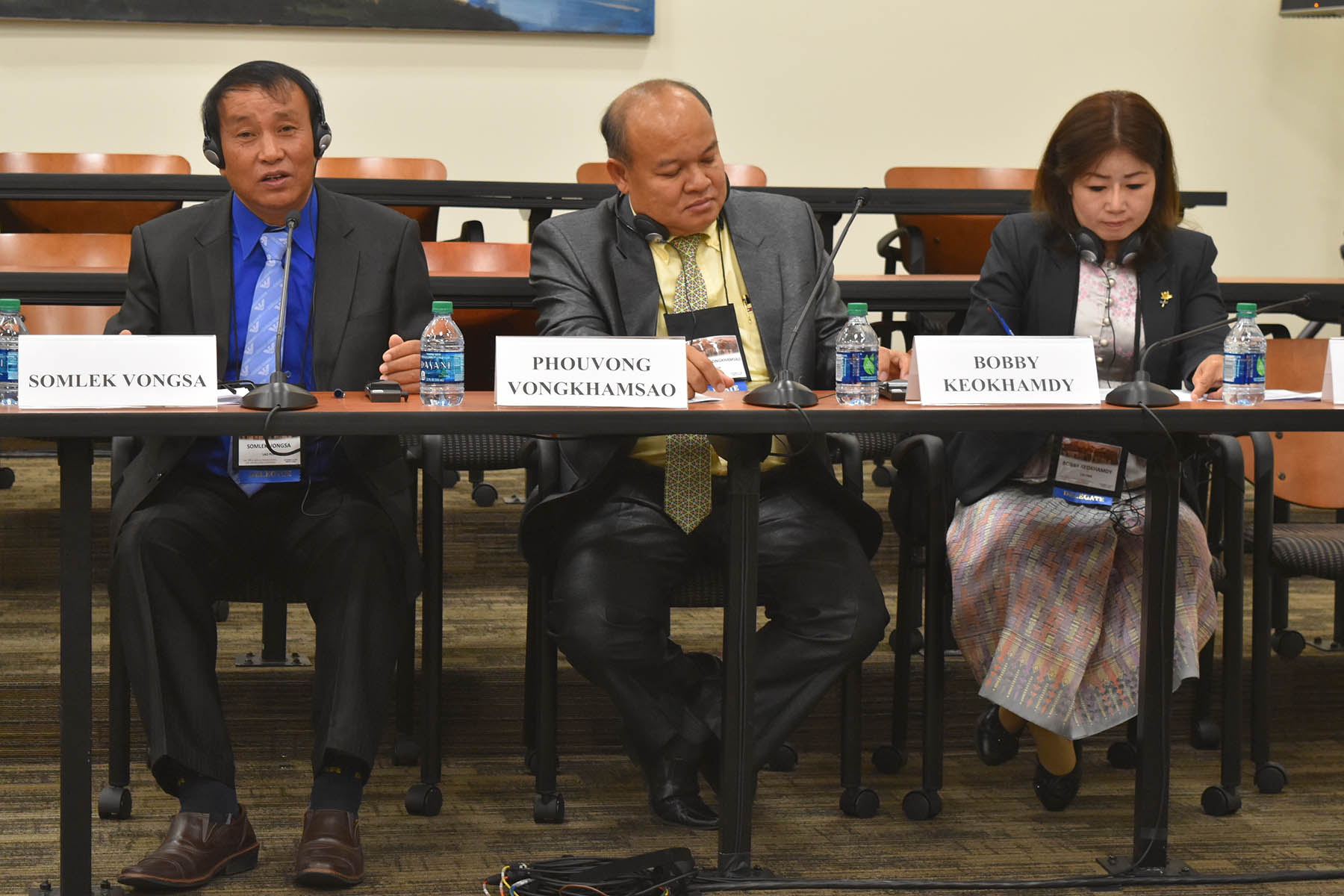 by Shaun Belliston, BYU Law Student and Symposium Volunteer
The breakout session on Lao People's Democratic Republic was held Monday morning on October 2, 2017, and was translated into several languages. The session was moderated by Steven L. Toronto, International Fellow for the International Center for Law and Religion Studies. Mr. Toronto welcomed the audience and introduced the delegates from Laos PDR. The delegates consisted of Somlek Vongsa, Phouvong Vongkhamsao, and Bobby Keokhamdy.
The first speaker of the session was Somlek Vongsa, Deputy Director of the Department of Home Affairs of Vientiane, the capital of Laos PDR. Mr. Vongsa began his remarks by thanking the University for hosting the event and the attendees for their interest in religious freedom. All religions must be considered equal before the law and no believer or non-believer should be forced to worship contrary to their own beliefs, Mr. Vongsa expressed. For these reasons, Mr. Vongsa continued, Laos PDR must have laws and regulations to prohibit religious coercion.
The second speaker of the session was Phouvong Vongkhamsao, Chief of the Cabinet of Vientiane, the capital city of Laos PDR. Mr. Vongkhamsao oversees the rights and freedoms of religion and the relationship between the government and religion. Mr. Vongkhamsao began his remarks by discussing the ethnic diversity of Laos PDR and the progression of religious freedom. Previously, Mr. Vongkhamsao said, religious rights were very limited in Laos PDR, allowing only 2 religions to be registered with the state; however, now there are 4 registered religions, including Buddhism, Christianity, Islam, and Baha'i. Mr. Vongkhamsao also explained some of the laws governing religious freedom in Laos PDR, including Decree 92. Among other things, Decree 92 compels religious groups to uphold the laws and regulations of the nation and prohibits religious organizations from coercing citizens into joining through bribery or force.
Mr. Toronto then opened the session up for Q&A. At the close of the Q&A, Mr. Jackson thanked the speakers for their dedication and scholarship and for their time in addressing the symposium.