Symposium 2017: Faith Perspectives and Interfaith Relations in a Changing World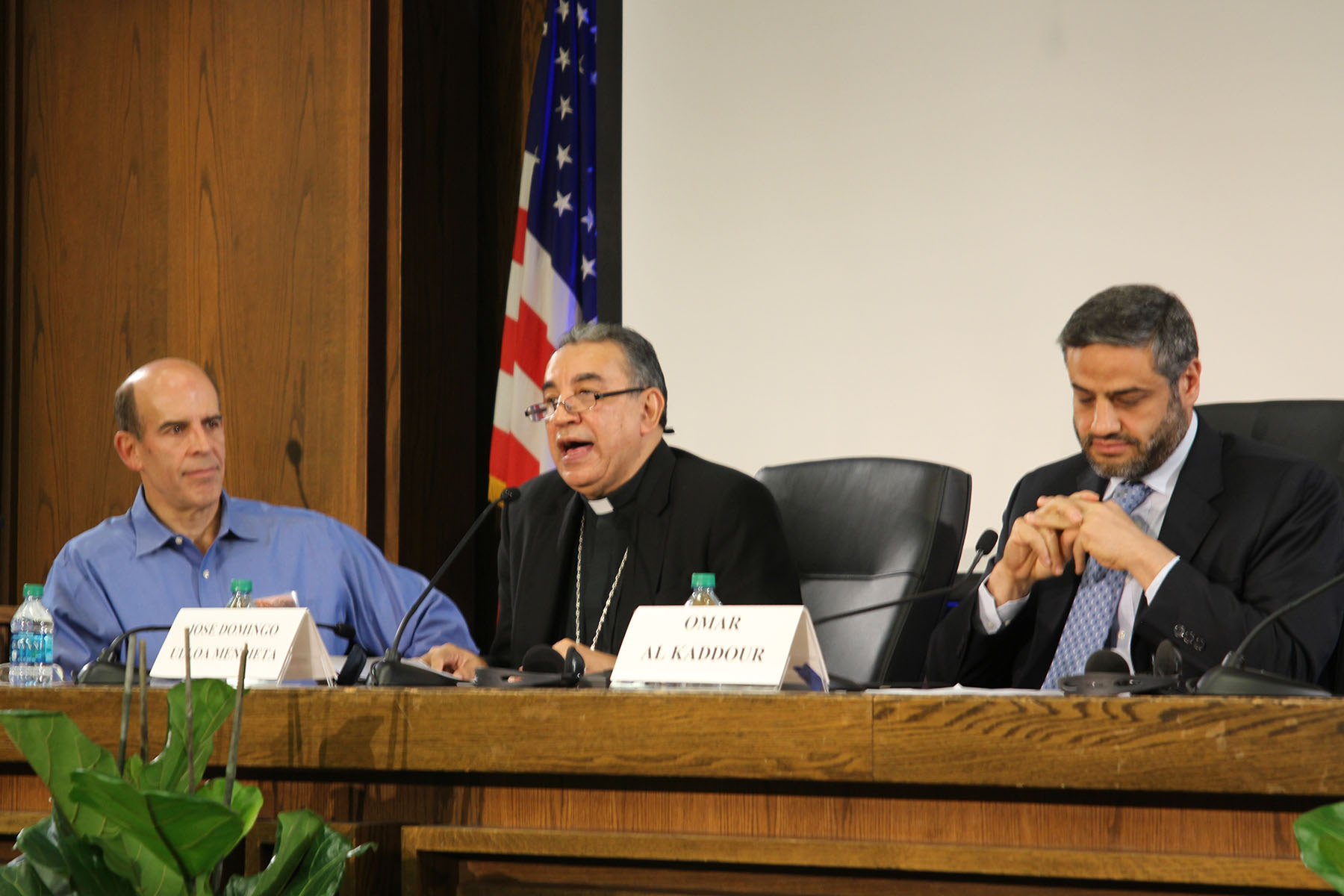 by Thomas Palmer, BYU Law Student and Symposium Volunteer
The Monday morning session, Faith Perspectives and Interfaith Relations in a Changing World, was moderated by Grant Underwood, Professor in the Department of History and Richard L. Evans Chair of Interreligious Understanding at Brigham Young University. Panelists were Archbishop José Ulloa Mendieta of the Archdioces of Panama, and Omar Al Kaddour, Director of Religious Freedom and Diversity, Argentinian Ministry of Foreign Affairs and Worship.
Archbishop Ulloa Mendieta
"We live not just in an era of change, but in the changing of an era." The Archbishop discussed his dream that in this new era, religious freedom will in reality be a right for everyone. This is done by finding common ground and working towards that common ground. People are sometimes pessimistic and they feel like they cannot change society. Good societies are built upon the foundation of the family. The Archbishop invited us to focus on helping our youth to develop good values, and especially to promote the value of families. To this end, Panama will host the Jornada Mundial de la Juventud in 2019. The Archbishop explained more about the importance of this event and invited all to participate. The Archbishop also gave a summary of the state of law and religion in Panama.
Omar Al Kaddour
Mr. Al Kaddour discussed the long history of peaceful coexistence of Argentina among different religious groups. Religious freedom in Argentina is respected as a universal human right. The countries with the best coexistence of faiths avoid conflict and resolve disputes in the best way possible. We live in a polarized generation where fundamentalists and fanatics seem to be winning the battle. The values that inspired the French Revolution and modernity are in a terminal crisis. Liberty and equality and the abandonment of fraternity have left men empty, incomplete, and isolated and we see a lot of need—just look to the current refugee crisis.
Mr. Al Kaddour shared his vision of how to revitalize humanity: from within religion we can contribute with creativity to give birth to this doctrine of fraternity or brotherhood. A society living in fraternity also has solidarity. Like the Pope said, fraternity allows all people to be diverse. Fraternity allows people that are the same in their dignity and in human rights to participate and work together.
Liberty, fraternity, and equality can give an answer to the needs of men to give them purpose and let them live freely. Together they can do good for man and separately they lead to existential emptiness. This cannot be imposed by a revolution. Mr. Al Kaddoour said we are striving to create an Argentina that establishes these values and allows each citizen to have a place at the table to share bread together, and to reach their material and spiritual potential.