Symposium 2015 Third Plenary Session: Religion and Social Tensions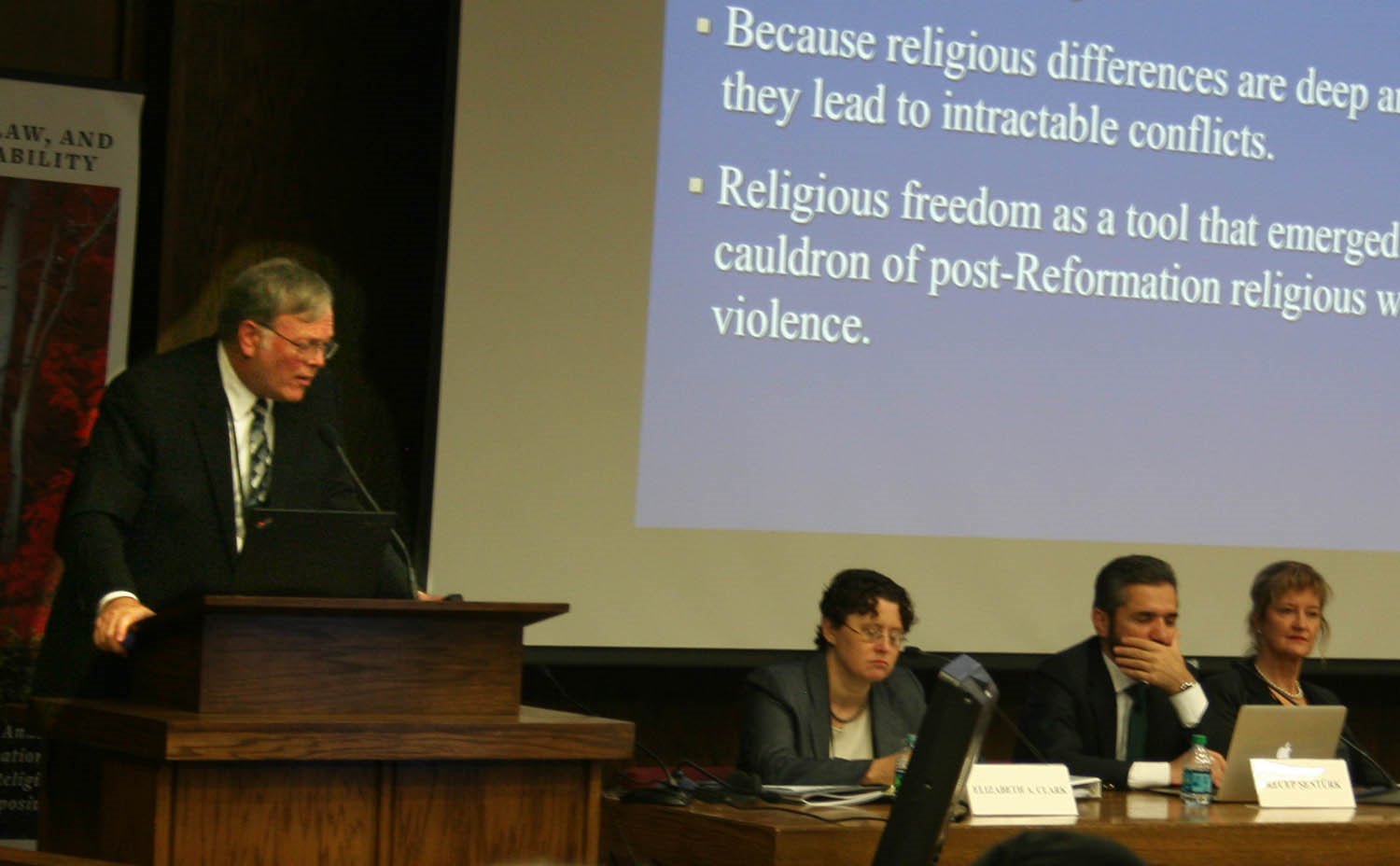 Reported by Tara Fitzgerald
In a session moderated by Elizabeth A. Clark, Associate Director of the International Center for Law and Religion Studies, Professors Rosalind I.J. Hackett, Recep Sentürk, and W. Cole Durham Jr. discussed social tensions that exist in the name of religion and what can be done to prevent future conflict.
Recep Şentürk, Professor of Sociology at the Alliance of Civilizations Institute at Fatih Sultan Mehmet Vakif University in Istanbul, Turkey, stated that the most pressing problem of our time is diversity management. He referred to our present age as "open civilization " and claimed that "[d]iversity is either a source of conflict or power and prosperity depending on how it is managed."History and religion show that diversity is indispensable. Managing diversity is the best way to prevent conflicts, and a multiplex worldview, as applied by the Ottomans, is the most effective way of managing diversity. Multiplex objectives of law include providing for necessities, needs (legal rights) and moral rights.
Rosalind I.J. Hackett, Professor and Head of the Department of Religious Studies at the University of Tennessee, discussed the role that new media plays in current religious tensions. Her research is based in Africa but her findings are applicable everywhere. It is clear that the misuse and abuse of new media is a catalyst for conflicts. These conflicts include inequity, encroachment and displacement, defamation and commercialization. Trends and examples identified under each of these categories, whether short term or long term, give reason for concern and scrutiny. In the current context of the media revolution and global market trends, the challenges of media-related conflicts are greater than ever. There have been media initiatives to promote peace and prevent conflict, but more of these are needed.
W. Cole Durham Jr., Director of the International Center for Law and Religion Studies, focused his remarks on how freedom of religion is fundamental to peace building. This fundamental right has long been considered a tool for preventing warfare and promoting peace. Professor Durham cautioned that it is important to avoid oversimplified assumptions when considering the interrelationship of religion and violence. Peace can exist in pluralistic societies. Peace-building mechanisms include applying freedom of religion as a filter and incorporating freedom of religion or belief as part of a stable background. Religious freedom requires continued channels of dialogue and negotiation. There are profound positive ways that religion that contribute to conflict resolution and stability.