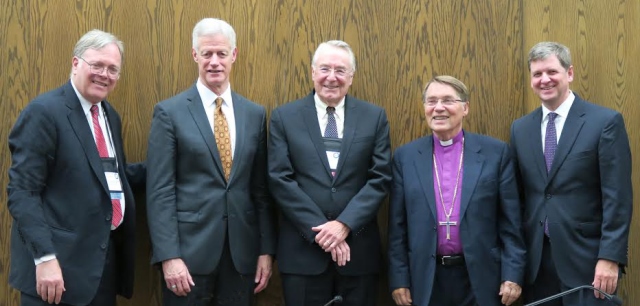 Keynote addresses at the 22nd Annual International Law and Religion Symposium, held Sunday evening October 4, 2015, were delivered by Dr. Gunnar Stålsett, Moderator of the European Council of Religious Leaders and International President, World Council of Religions for Peace, and Professor David Little, currently a research fellow at Georgetown University's Berkley Center, who was at the time of his retirement in 2009 T.J. Dermot Dunphy Professor of the Practice in Religion, Ethnicity, and International Conflict at Harvard Divinity School and an associate at the Weatherhead Center for International Affairs at Harvard University. Professor Little and Bishop Stålsett were also presented with the Center's Distinguished Service Awards at this meeting.
Dr. Stålsett addressed the conference theme, Religion, Law, and Social Stability, from an interfaith perspective. "There is a world out there," he began, "where religion still matters. Ours is a world were religion plays an increasing role for better and worse. The essence of religion is transcendence; it is to go beyond man-made boundaries and to offer a more complete view of what matters for humanity. Religion is about moral imperative and forgiveness. The core of religion is salvation. Its promise is flourishing life in time and eternity. Religion … challenges us to live out of the materialistic box and to enjoy true meaning. / … The meaning of Law is as complex as that of religion. Both are essential to civilization. The aim of both is to serve humanity …. Both set boundaries for evil and advance common good. Their relationship is seen when religious principles impact law and law regulates religion. / If salvation is about healing and bliss, social stability is about cohesion and integration. It is about welcoming the other in all his otherness as a brother and sister. For this to happen, religion and law are indispensable. / Theology and jurisprudence meet and overlap in ways that impact individual, communities and nations."
Professor Little began his address, "Human Rights, Religious Freedom, and Peace," with an assumption that "at least one indispensable feature of social stability is peace, namely the absence of widespread deadly force, although peace of course means more than that," and a further assumption "that whatever else it is, human rights is about law, and … that particularly when coupled with freedom of conscience, religion, or belief, human rights directly addresses, among other things, the issue of religion." Acknowledging that what he would say "faces strong criticism" from several scholars who "regard human rights as 'discourse of pseudo-emancipation that serves to conceal [various] entanglement[s] with power,'" he nevertheless asserted that "'[t]here is strong empirical support for the proposition that human rights compliance in general, and religious freedom compliance in particular, increase the prospects for peace."
The complete texts of Dr. Stålsett's and Professor Little's addresses are available at the links below.