Symposium 2015: Judicial Perspectives – Mogoeng Mogoeng, Chief Justice of the Constitutional Court of South Africa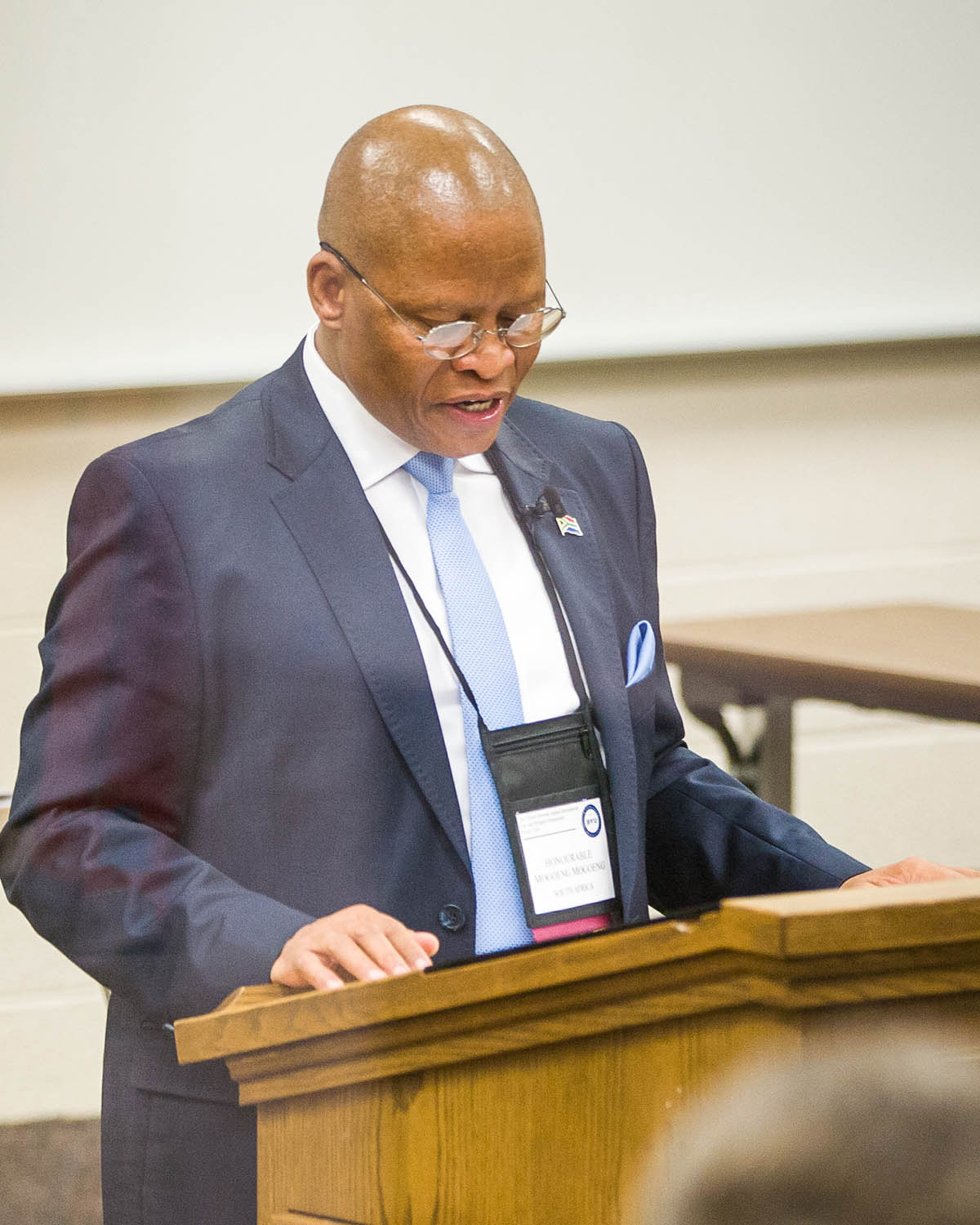 Reported by Jordan Pendergrass
Chief Justice Mogoeng Mogoeng of the Constitutional Court of South Africa was the symposium's first presenter in a series dedicated to judicial perspectives. His remarks revolved around two unique aspects of law and religion in South Africa. First, he described how, to a certain extent, apartheid was born out of a belief influenced by religion. He then demonstrated how religion now enjoys a protected place in and contributes positively to society.
Chief Justice Mogoeng began his presentation by referring to Hendrik Verwoerd, the architect of apartheid. Verwoerd had deep religious formation, and there are Biblical passages that can be interpreted to support apartheid. Although there were other significant contributing factors to South Africa's atrocities, there exists the argument that religion did not prevent the racist policies of the National Party.
Modern South Africa is the result of a large-scale effort to protect rights, explained the Chief Justice. South Africa chose to stabilize society, and the Constitution and the Constitutional Court symbolize the triumph of human rights. Freedom of religion is one of the rights that South Africa ensures. There is a prohibition against discrimination on the grounds of religion, and this has allowed the nation to remain relatively free from the religious conflicts that have been witnessed in other parts of Africa and in Asia. Chief Justice Mogoeng quoted extensively from the Preamble to the Constitution, and emphasized these phrases of the Preamble: "May God protect our people." and "God bless South Africa." He emphasized the need for religious organizations to be a part of society, and he called for marriage of law and religion for the common good of the nation. Freedom of religion, as protected in the Constitution, was extolled as the means by which a "miracle" could be seen in South Africa; social ills can be remedied, government can be kept in check, and religious groups can be united to accomplish stability.
A rich session of questions and answers followed the Chief Justice's prepared remarks. Several judges and other symposium guests further explored topic such as: Is it too soon to call the South African Constitution a success? What is to be understood by the changing function of the Constitution Court? What ensures judicial independence, and what is the future of the judiciary? Can freedom of religion in South Africa permit racial inequality when grounded on religious principles? How should freedom of expression be governed as relating to hate speech? Can South Africa's struggle and progress be used as a model for minority groups, in and out of South Africa? How did the Truth and Reconciliation Commission contribute to the preservation of rights?
Throughout the session, there were various references to President Nelson Mandela's vision for and work on behalf of a successful society in South Africa. As explained by the Chief Justice, President Mandela's hope was that the religious tenet of love would foster the social harmony so needed in South Africa and beyond.
The Honorable Mogoeng Thomas Reetsang Mogoeng is the current Chief Justice of South Africa. He received a B.Juris from the University of Zululand and a Bachelor of Laws from the University of Natal. He then obtained a Master of Laws from the University of South Africa. After a short period at the Johannesburg Bar, Chief Justice Mogoeng went to Mahikeng, where he practiced for six years. He was also the chair of Lawyers for Human Rights' Bophuthatswana chapter and a part-time lecturer at the University of Bophuthatswana. Mogoeng's appointment to Chief Justice was recommended and confirmed on 8 September 2011. As Chief Justice, he is head of the Judicial Service Commission, which is responsible for the appointment of judges. He is a lay preacher in the Pentecostal Winners' Chapel.
The Twenty-second Annual International Law and Religion Symposium took place at the J. Reuben Clark Law School on the Campus of Brigham Young University in Provo, Utah. The delegates—approximately 90 leading scholars, jurists, and political and civil society leaders from 40 countries—joined in an exploration of issues surrounding the theme Religion, Law, and Social Stability.