Symposium 2015: Judicial Perspectives – Ahmed M. Ebrahim, Justice (Ret.), Supreme Court of Swaziland and the Supreme Court of Zimbabwe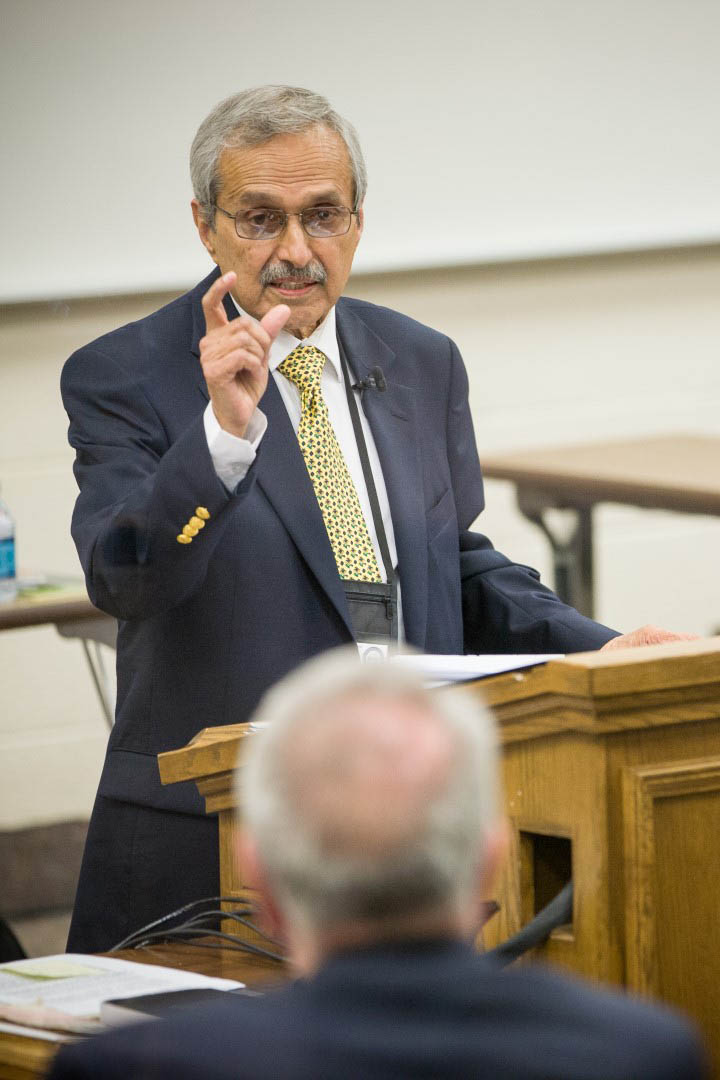 Reported by Joe Hepworth
Ahmed M. Ebrahim, Justice (Ret.), Supreme Court of Swaziland and the Supreme Court of Zimbabwe, provided an overview of his remarkable career spanning several decades.
Justice Ebrahim highly recommended a 1959 speech from the Attorney General of India. The speech, he observed, includes "pearls of wisdom" that will help students get to where he is today. He also recommended that those new to Islam read a book written by an eminent professor, Malcolm Clark, Islam for Dummies, and the translation of the Qur'an by Sir Abdullah Yusuf Ali.
When Justice Ebrahim was young, Zimbabwe vigorously practiced a form of racial segregation similar to South Africa's apartheid, "although they didn't call it that." Justice Ebrahim was not allowed to go to school in Zimbabwe so he was educated in England for 9 years. He admitted he had very inadequate education before then and suggested that those who have bigoted ideas should go overseas to be exposed to diverse ideas.
He was admitted as a barrister in 1962 at Lincoln's Inn. Upon returning to Zimbabwe, despite his race, he spent one year as the clerk of the criminal court. He passed his yearly review with flying colors, but, to avoid problems because of his race, rather than moving on, he was transferred to the next ministry of law and order. He did feel that move gave him a solid knowledge of the legal system in Zimbabwe as he has experienced it from the lowest levels to the highest.
While working in the prosecutor's office, Justice Ebrahim tried to move to the attorney general's office but was told there was no vacancy. He was prosecuting the most complex of cases and training others who were moving on to the attorney general's office and yet he was passed over. Many of his friends were agitating, asking why he was not promoted. Finally, in 1975, the Attorney General condescended and Justice Ebrahim transferred to the that office for 5 years. He had a strong reputation with investigators and attorneys as someone who made decisions, listened and got along well with others.
In 1980, the advent of independence was at hand. The Attorney General presented an opportunity to attend a 6 month course in London on international law. However, the attendee must be black. As the only black person in the attorney general's office, Justice Ebrahim went to London for what he considered one of the best experiences of his life. As he was finishing his course, he was invited to attend a lunch by the legal director of the Commonwealth Secretariat from New Zealand. He offered Justice Ibrahim his position. However, feeling that the government of Zimbabwe was on the brink of change, and concerned about the impact on his family, Justice Ibrahim declined and returned to Zimbabwe.
Justice Ibrahim spent 12 years as a justice of the Supreme Court of Zimbabwe. He worked with wonderful people who had an international reputation for quality. After leaving the bench in Zimbabwe, he joined the Supreme Court of Swaziland. The justices were from the Caribbean, Ghana, and South Africa. "It was a tremendous bench," he said.
In conclusion, Justice Ebrahim referring to Professor Malcolm Clark's 2002 book, Islam for Dummies. "When you look at it," he said, "you will see the similarities with other religions." He went on to say, "We must try somehow to get rid of the bigotry that we are being subjected to in the Middle East."
Justice Ebrahim, at his retirement, was the second most senior judge on the bench. In 2004 he was awarded the Pravasi Bharatiya Samman award by the Indian government for his outstanding role in fostering good relations between Zimbabwe and India. He is currently one of the five international judges of appeal in Swaziland and is current chair of the committee set up to probe the Asiagate match-fixing scandal in football.
The Twenty-second Annual International Law and Religion Symposium took place at the J. Reuben Clark Law School on the Campus of Brigham Young University in Provo, Utah. The delegates—approximately 90 leading scholars, jurists, and political and civil society leaders from 40 countries—joined in an exploration of issues surrounding the theme Religion, Law, and Social Stability.