Symposium 2015: Interreligious Cooperation, Religious Freedom, & Social Stability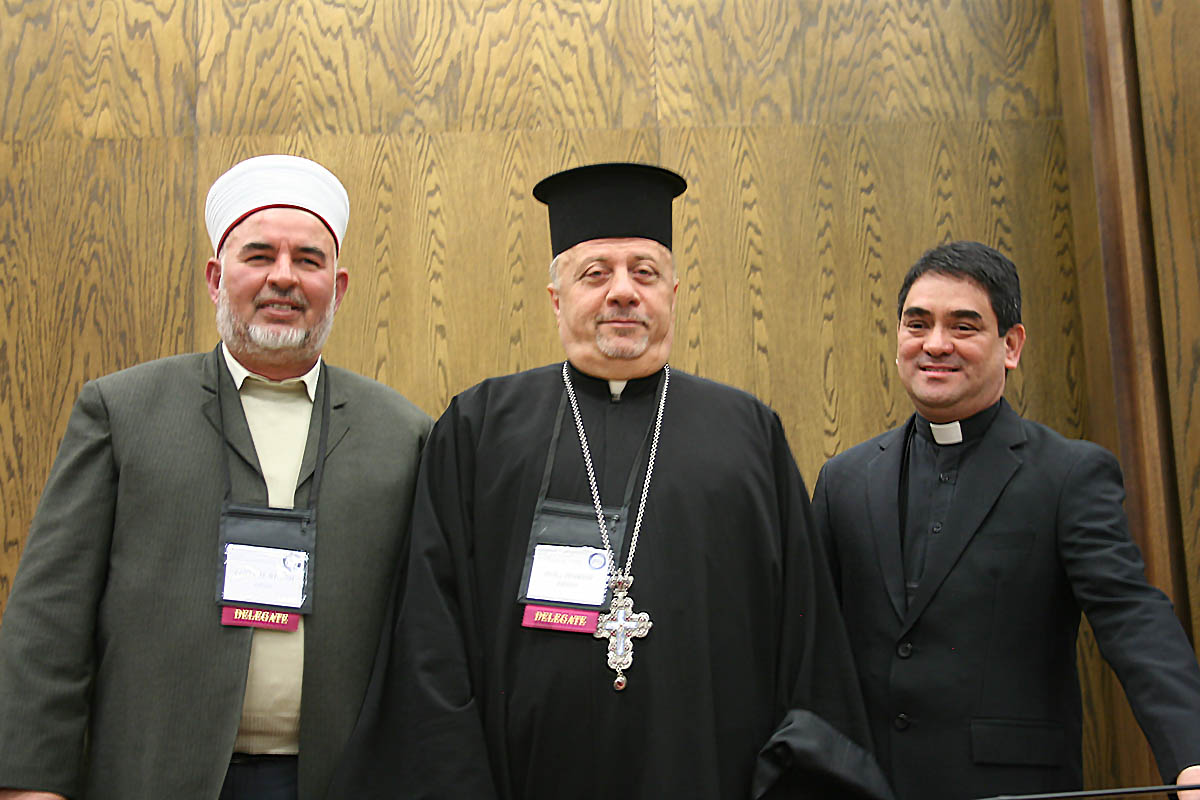 Reported by Tara Fitzgerald
This session was moderated by Shon Hopkin, Assistant Professor of Ancient Scripture, Religious Studies Center, Brigham Young University and featured Yahya Al-Btoush, Grand Mufti, Jordanian Armed Forces; Fr. Richard Babao, Assistant Minister, Roman Catholic Archdiocese of Manila; and Fr. Nabil Haddad, Founder and Director, Jordanian Interfaith Coexistence Research Center.
Grand Mufti Yahya Al-Btoush shared the "Amman Message"—the message of Islamic thoughts and beliefs that oppose terrorism and extremism. The elements and principles of this message were approved by 500 Muslim men from all over the world who met in Jordan in 2005. International courses explaining the content of this message have been and are still being held.
One of the most important principles of the Amman Message is that the focus of Islam is peace. Mohammad taught that we are all children of God. God created us and gave us dignity. All people are equal in his eyes. Thus, Islam believes strongly in diversity and that religion should not be forced on anyone. Problems come when people do not understand their religion and cover their acts in the name of religion.
Jordan has played a historical role and is important to all believers of divine religions. Pictures were displayed showing evidences of coexistence.
Father Richard Babao expressed that "[i]t is impossible for peace to exist without dialogue." He shared his own experience of attending Catholic school and realizing later his ignorance concerning dialogue and people from other religions. As he came to know people of other beliefs, his way of looking at people and their faiths changed. He has made it a point to focus on people rather than on lectures and ideas—in this way, he has come to see real people.
Encouraging dialogue with other religions was a major point of the Second Vatican Council. The Catholic Church underwent a deep reform—the new Evangelicalism. It was not enough for peace to exist in the classroom—it must be carried into the community. In 2009, Richard Babao was sent to study dialogue. His efforts in this area have continued to this day. His writings have centered on Catholic relations with Muslims. He emphasized that religions has a key role in promoting peace and that it is important to commit each person to love of God and neighbor in light of the common good. The Catholic Church's commitment to dialogue flows through the example of Jesus Christ who gave his life for its expression. "Because He is present in the midst of all our struggles, we can hope."
Father Nabil Haddad emphasized that the World Interfaith Harmony Week—an initiative aiming to promote harmony between all people regardless of their faith, especially Muslims and Christians—was a Jordanian initiative. Interfaith cooperation and coexistence is not a newborn issue—it began when Islam started its mission. Jordan is a model of hope and offers the best proof that interfaith cooperation and coexistence can be done.
To have interfaith cooperation and coexistence, two parties are needed—a good Muslim and a good Christian. Love of neighbor is at the heart of these religions. The problem is that religion has become a mask for terrorism. Conversations about religious freedom are meaningless in some regions because there is so much hate and so much cry for the safety and security of each individual. Unfortunately, the industry of extremism is spreading. There are two mentalities that are suicidal in every society—the illusion of the minority and the arrogance of the majority. We must build identity through good experiences. Sharing the Amman Message is the best prescription against hatred and conflict. It is timely to highlight the initiatives that have been taken in Jordan to establish peace.