Symposium 2015 Fourth Plenary Session: Conference Summation and Concluding Reflections on Conference Themes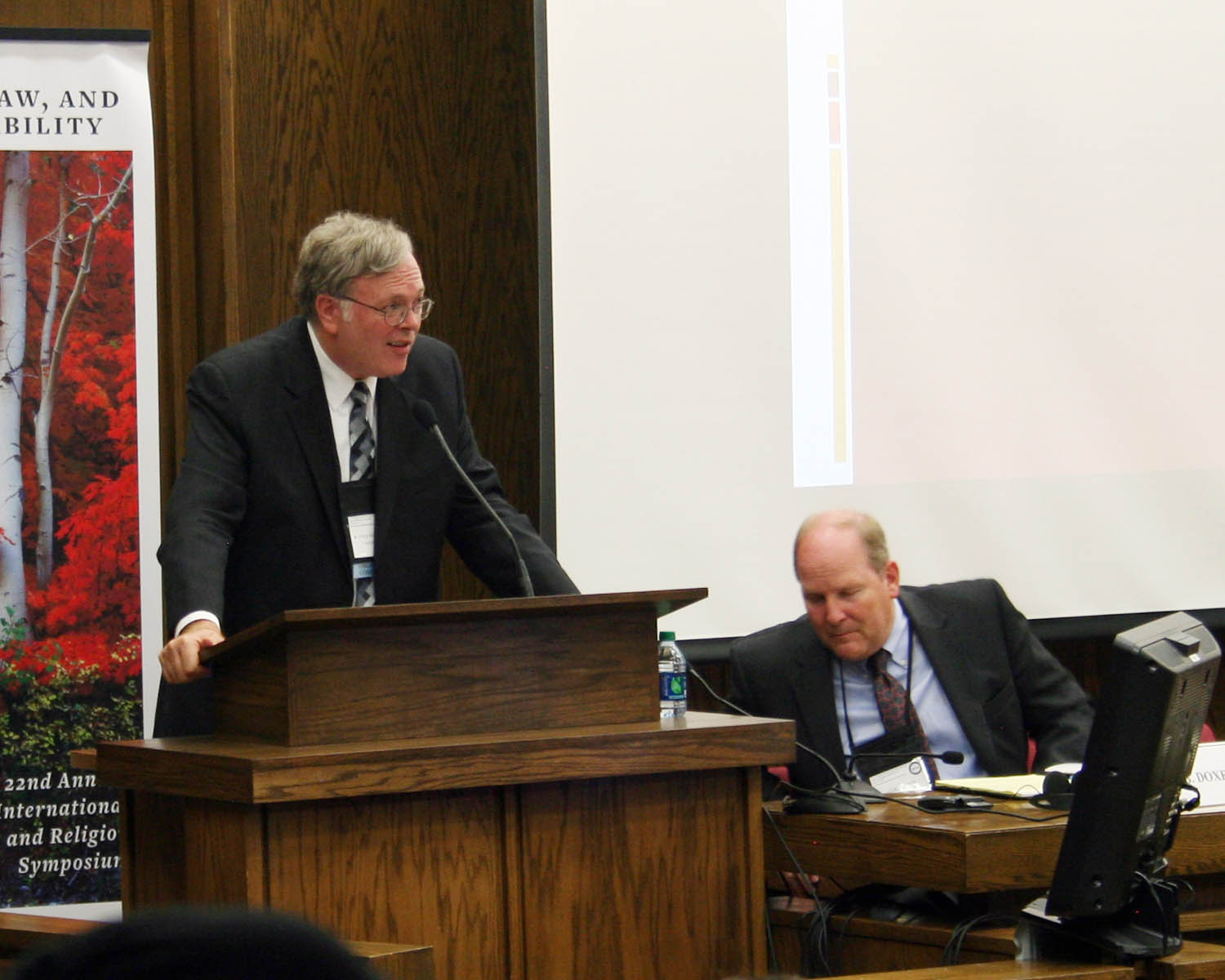 Reported by Annalee Hickman Moser
The final plenary session of the 22nd Annual International Law and Religion Symposium was moderated by Gary B. Doxey, Associate Director of the International Center for Law and Religion Studies at the J. Reuben Clark Law School at Brigham Young University. During this final plenary session of the Symposium, previous presenters were asked to give their final thoughts and reflections about the Symposium followed by a presentation by Silvio Ferrari, Professor of Canon Law at the University of Milan in Italy, and closing remarks by W. Cole Durham, Jr., Susa Young Gates Professor of Law and Director for the International Center for Law and Religion Studies at the J. Reuben Clark Law School at Brigham Young University
Alfonso Santiago, Director of the School of Policy, Government, and International Relations at Austral University, reemphasized the threats that people and religions might have regarding health, abortion, and education. Laws are national or international about discrimination and should be considered carefully. He was also grateful for these few days of the Symposium.
Michael Quinlan, Dean of the School of Law in Sydney at the University of Notre Dame Australia, listed some of his highlights from the Symposium, including that the first plenary session did a good job at setting the scene for him and that the religious freedom and social stability session about the interfaith cooperation of Christians and Muslims was eye opening. During these past few days, he felt brotherhood, love, and hope.
Elizabeta Kitanović, Executive Secretary for the Conference of European Churches (CEC), expressed appreciation for the Canadian session that involved a debate. The two delegates argued opposing sides but afterwards the delegates were polite to each other. She said that feeling of respect and togetherness was prevalent throughout the Symposium. Additionally, she found the Religion and Foreign Policy Session interesting. She really appreciated, as someone who is working in Europe, that we gather here from all different continents and that there were interfaith and interreligious components. "I will take with me great friendships, networking and smiles of the students."
Julio Mendez, Presbyter Doctor at the Catholic University of Salta, wanted to express graciousness and congratulations for the strength and organization of this Symposium. He believes religion has value and is not a danger in society. He remarked "that everyone can offer our faith as a testimony to God, never to impose but neither to be imposed upon." The path to more religious freedom is not to take away or to impose upon others, but to search and reevaluate so that all of us can have the same freedom in public as well as in private.
Mariano Germán Mejia, Chief Justice of the Supreme Court of the Dominican Republic, articulated that religious freedom is one of the most important topics in the world. At this event, his belief was strengthened of the importance of the right to freedom for all religions, in all countries, etc. He was stuck by the respect amongst the participants, regardless of the state of religious freedom in their own countries. He believes we need happiness and harmony in our lives and faith in tomorrow.
Faith Delos Reyes, Research and Project Coordinator for the Human Rights Resource Centre at the University of Indonesia, focused on sessions that touched on Asian countries. It gave her an appreciation of these countries and what their struggles are. She was grateful to meet such fantastic experts and warm people. Coming from a nonprofit, sometimes she wishes she could see faster progress, but her eyes have been opened to other's struggles and she looks forward to working with some of the delegates in the future.
Kishan Manocha, Senior Advisor on Freedom of Religion and Belief for the OSCE Office for Democratic Institutions and Human Rights, was grateful for the dynamics and for the people that ran the Symposium. It was his second symposium and he was grateful to be a part of an experience that "not only values knowledge, expertise, and experience but more importantly the conditions that are conducive to create an environment where learning flourishes." "He commented on the need for a long-term perspective. The emergence of new issues as we all look to the future is normal in ever-changing societies and should be welcomed. He believes we can only advance religious freedom if we conduct this work as a long-term priority.
Ahmed M. Ebrahim, retired Justice of the Supreme Court of Swaziland and the Supreme Court of Zimbabwe, commented on the warmth of the people volunteering and involved in the Symposium, calling them "a valuable asset to humanity" and referring to the students as "immensely helpful, yet full of life and always smiling". He gave credit to the Mormon community for "practicing peace corps activities since you came into being". He commented on the God-loving people that had gathered.
Silvio Ferrari, Professor of Canon Law at the University of Milan in Italy, gave concluding remarks about the conference. He discussed three topics—Stability, Change, and Plurality. About them he said the following. Some degree of social change is essential to social stability. Plurality of life visions, experiences, and experiments make meaningful change possible. Where plurality does not exist, change is impossible and social stability becomes oppressive. And the counterintuitive conclusion is that only a plural society can be a stable society. He also addressed social stability as a process of diversity management. His main point of this idea was thinking of stability as a dynamic process, not as a static condition, based on the interaction of three social spaces: a space where different life visions and experiences can develop and flourish, a space where they can dialogue and compare the solutions they give to concrete problems, and a space where decisions are taken according to the democratic rules. He concluded that religions can contribute to social stability, provided they accept social plurality through the recognition of freedom of religion.
W. Cole Durham, Jr., Susa Young Gates Professor of Law and Director for the International Center for Law and Religion Studies at the J. Reuben Clark Law School at Brigham Young University, thanked the many people that helped to coordinate this event. He stated that it is "important to have events like this to sort out things that we differ about and things where there are common issues." He explained that we come with different histories, backgrounds, and cultures, so we talk and learn from each other. He believes it is important that we protect the religious rights of institutions and individuals and stated that he is committed to religious autonomy and accommodation. He stressed that we should listen. "If you listen to other people, if you really listen, you come out with social institutions and arrangements that are better than could be had if you haven't listened" and that this was one of the critical things that occurred at the symposium. He pointed out that fortunately, in most of our countries, we do not have to put our lives on the line and how grateful he is for that and how humbled he is by those delegates who do take significant risks with their lives or professional careers.
One specific principle he will come away with today is that stability is not stasis. Stability needs to be open. We need to ask ourselves, "What makes just change possible?" He thinks listening to fundamental rights will help us answer that question. Religious freedom was one of the first international rights even though it was not very robust; but it has given birth to what we now know. He concluded with saying, "Without justice there is no lasting stability [of religious freedom]." He thanked all attendees for "what you have done and what you will continue to do."