Symposium 2014: Vietnam & Lao Democratic People's Republic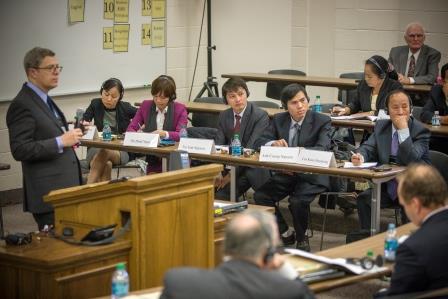 Vietnam Report by Jarvis Yau
Presentation by the scholars from Vietnam was among the Symposium's first breakout sessions on October 7th, 2014. It was moderated by Brett G. Scharffs, Associate Dean for Faculty and Curriculum at Brigham Young University's J. Reuben Clark Law School, and Associate Director of the International Center for Law and Religion Studies. From among the six members of the delegations from Vietnam and the Lao Democratic People's Republic, three spoke: Dr. Anh Cuong Nguyen and Tai Tim Nguyen of Vietnam and Ly Koua Sayaxang, Permanent Acting President, Lao Front for National Construction of Vientiane Capital City.
The Vietnam portion of the presentation was primarily about religion and human rights, especially in the context of the relations between the United States and Vietnam. One of the presenters, Dr. Anh Cuong Nguyen, of the faculty of Political Science of Hanoi University of Social Sciences and Humanities, Vietnam National University Hanoi, started off defining freedom of religion as the "right to perform religious acts, pursing the belief of an individual in a free manner." He then went on and explained that the Vietnamese government committed itself to the idea of religious freedom back in 1945, and continuous efforts have been made over the years in keeping this commitment.
After giving the historical background of the evolvement of religious freedom in Vietnam, the delegation shifted focus to the U.S. foreign policy toward Vietnam regarding human rights and religion. A delegate quoted the presidential statement made by President Bill Clinton asserting the desire of the U.S. to normalize the trade relations with Vietnam, and how the related programs would require the assurance of human and labor rights before they could proceed. The presenter believed that normalization and the increasing contacts between the U.S. and Vietnam would further advance the cause of freedom in Vietnam.
The delegation closed the presentation by emphasizing that understanding the values of the U.S. will contribute to expanding Vietnam's relations with the America, and it will help demonstrating to the world more clearly that religion freedom and human rights are respected and valued in Vietnam.
The session was concluded by a Q&A session. Most of the questions asked focused on the recent policy changes in Vietnam and the potential influence to religion freedom. The presenters had various point of views regarding the matter, but they were all confident that religious freedom will be maintained just like how it has been over the past few decades.