Symposium 2014 Third Plenary Session: Aspects of Secularism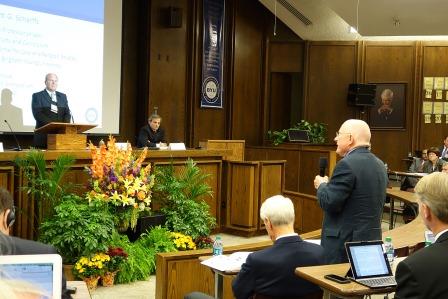 Reported by Ryan Andersen
In a session moderated by Professor Gary Doxey, Associate Director of the International Center for Law and Religion Studies, Professors Alberto Patiño Reyes, Joseph E. David, and Brett G. Scharffs discussed trends and aspects of modern secularism.
Alberto Patiño Reyes, of the University Iberoamericana – Santa Fe in Mexico City, spoke on the history and future of secularism in Latin America. He discussed the long and at times violent history of state patronage in the Roman Catholic Church throughout Latin America. He noted how some states, like Colombia and Peru, peacefully embraced a separation between church and state while others, like Mexico, required a violent end to state patronage in the Catholic Church. Professor Reyes then described the remnants of official Catholic patronage in different Latin American states, and his prediction that those remnants will disappear as Latin America continues to become more pluralistic.
Joseph E. David, Professor of Law and Religion at the University of Oxford in the UK and Sapir Academic College in Israel explained secularism as a social, personal, political, and epistemological framework. Professor David also explained the tautological relationship between secularism and modernity in the west. The western definition of modernity is secularism, and secularism is necessary for modernity. In reality, religion and secularism are mutually dependent. Professor David further described a post secularism turn towards religion to explain and connect with an identity rather than authority.

Brett G. Scharffs, Associate Director of the International Center for Law and Religion and Francis R. Kirkham Professor of Law at Brigham Young University explained the difference between secularity and secularism. Secularism, according to Professor Scharffs, is a value in and of itself while secularity is a framework more conducive to social pluralism. Secularism excludes religious influences while secularity makes space for religious influence in society. Secularism is a system of negative freedoms while secularity is one of positive freedoms. Professor Scharffs further discussed the epistemological differences between the two. He concluded by observing that many –isms represent too much of a good thing, and often result in a dystopia rather than their promised utopias.