Symposium 2014: Opening Session – Senator Hatch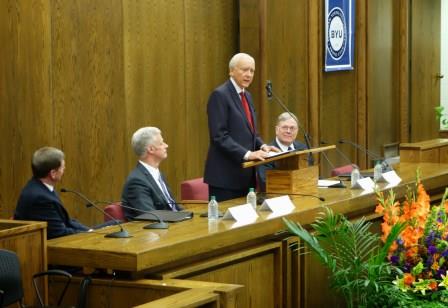 Reported by Tara Fitzgerald
United States Senator Orrin Hatch, speaking from his nearly 38 years of service in the U.S. Senate, delivered the Keynote Address at the opening session of the 21st Annual International Law and Religion Symposium held in the Moot Court Room of the J. Reuben Clark Law School on the campus of Brigham Young University in Provo, Utah. Preceding his address, welcoming remarks were given by Dean James R. Rasband, Dean of the BYU Law School, as well as President Kevin J. Worthen, President of Brigham Young University and former Dean of the Law School. Senator Hatch was also presented with the Center's Distinguished Service Award by Professor W. Cole Durham, Jr., Director of the International Center for Law and Religion Studies.
In his opening remarks, Senator Hatch stated that "this is an unsettled and unsettling time for religious liberty," and described how religious freedom is being attacked "at home and abroad." In response to this observation, Senator Hatch chose to focus his remarks on 1) Why Religious Freedom Matters, 2) How Religious Freedom Is Under Attack, and 3) Preserving and Protecting Religious Freedom.
In discussing why religious freedom matters, Senator Hatch used as a basis of his remarks a concept introduced by Professor Thomas Berg of the University of St. Thomas of religious freedom being established as "social reality and constitutional principle." Senator Hatch explained that religious freedom as social reality has three dimensions: 1) freedom not only of belief, but also behavior; 2) freedom that may be exercised publicly as well as privately; and 3) freedom to act both individually and collectively.
In relation to how religious freedom is under attack, Senator Hatch stated that the argument being made that law should not and cannot be based on religious considerations attacks all three dimensions of religious freedom as social reality. Senator Hatch described further that religious freedom as constitutional principle is being attacked by American citizens' decrease in knowledge concerning the Constitution and America's history, heritage and form of government, as well as increasing activist judges.
In reaction to the reversed widening and narrowing of the Establishment and Free Exercise Clauses in Employment Division v. Smith, Senator Hatch orchestrated the passing of the Religious Freedom Restoration Act (RFRA). RFRA states that two conditions must be met before government can "substantially burden a person's exercise of religion:" 1) the government must "advance a compelling government interest" and 2) it must be the "least restrictive means of advancing that interest." RFRA was passed and supported broadly, but this is no longer the case.
Senator Hatch concluded his remarks by offering six ways we can preserve and protect religious freedom: 1) be resolute against efforts to remove our religious heritage from educational curricula; 2) reclaim the public square as a forum friendly for religion; 3) support efforts to partner government with religious and charitable organizations to reach underserved populations; 4) highlight the good that religious leaders do for our nation; 5) work harder to convince people that religious freedom is worth protecting; and 6) affirm our own individual faith and devotion. By doing these things, Senator Hatch promotes that "we can appeal to those who recognize the importance of religious liberty but are unsure how to proceed" and secure the blessing of liberty that can only come through "true religious freedom."