Symposium 2014: Japan and South Korea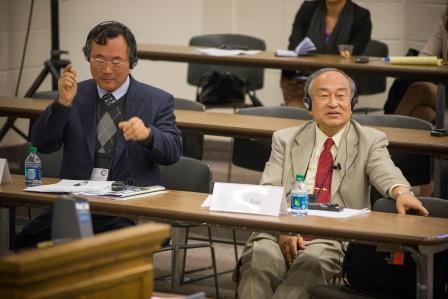 Reported by Richard Alex Storms
A breakout session on Tuesday, October 7, 2014, was moderated by Mark A. Peterson, Associate Professor of Korean, Brigham Young University. There were two speakers who presented. The first speaker was Makoto Arai, Prof. Dr., Chairman, Religious Juridical Persons Council, Government of Japan and Professor, Chuo University Faculty of Law, Japan. The second speaker was Byung-Sun Oh, Professor Emeritus, Sogang University Law School, South Korea.
Professor Arai spoke about how religion and charitable trusts have worked together in Japan to help people. He first spoke about one of the most famous Buddhist monks in Japanese history, Kukai. In 828, Kukai established the Shugei Shuchiin Academy. This academy was the first private higher educational institution to be open to the general public. Kukai used a charitable trust to fund the academy, which was the first charitable trust in Japan. Additionally, Professor Arai spoke on a devout Buddhist merchant, Naba Yusei, who, based on his religious conviction, created a trust to facilitate poverty relief. Naba donated money to purchase farm land in order to use rice from taxes to feed the poor. His creating an independent fund through purchasing farmland was unprecedented. Lastly, Professor Arai showed that both Kukai and Naba Yusei, motivated by religious purposes, used charitable organizations to help others. Professor Arai stated that contemporary religious organizations can learn from how Kukai and Naba Yusei married religion with charitable trusts for the betterment of others.
Professor Byung-Sun Oh talked about how religion is interacting with society in modern-day South Korea. Professor Oh did so through analyzing two recent court cases. The first case was about a high school student who sued his Protestant high school for violating his freedom of religion. South Korea had a policy to, through a lottery system, assign students to particular schools.The students did not have a choice. This high school student attended a religious school that forced students to attend religious activities. The students did not give their consent to participate in the activities. When students protested attendance of the activities, the school punished the students. South Korea's Supreme Court found that the school violated the student's freedom of religion. The court stated that religious schools need to operate their religious freedom within the framework of protecting students' freedom of religion. The second case stated that clergy will now be taxed. Few South Koreans believe that clergy members should be exempted from taxes. Professor Oh said that this development can be seen in one of two ways: the first is that taxing clergy members is a symbol of equal treatment and fairness in society, the second is that the taxation is a conflict between religious freedom and government control.