Symposium 2014: Freedom of Religion and Belief and European Union Foreign Policy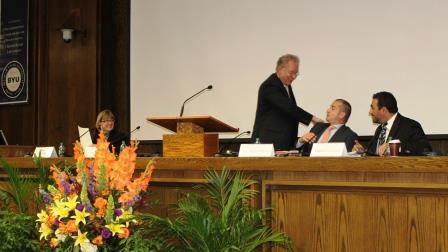 Reported by Ryan Andersen
Professor David Kirkham led a panel discussion on Freedom of Religious Belief and European Union Foreign Policy. Along with Professor Kirkham, Jean-Bernard Bolvin of the European External Action Service, Susan J. Breeze of the of the UK Foreign & Commonwealth Office's Human Rights & Democracy Department, and Pasquale Annicchino of the European University Institute, discussed the goals, methods, and methods used in promoting the freedom of religious belief around the world.
Mr. Bolvin discussed freedom of belief as a core value of EU foreign policy. Promoting the freedom of belief also promotes peace, democracy, development and stability, all of which are core interests for the European Union. The European External Action Service, the body responsible for the European Union's foreign policy, uses traditional diplomatic means like demarches, reporting, and financial incentives to promote freedom of religion. The EU's highest leadership also meets regularly with Europe's religious leaders to benefit from their perspective on religion's place in EU law and policy, thereby promoting freedom of religious belief amongst the EU's twenty-eight member states.
Ms. Breeze of the Foreign and Commonwealth Office discussed the United Kingdom's efforts in promoting freedom of religious belief. Like the EU, the United Kingdom promotes some of its vital interests like stability and democracy through promoting religious freedom around the world. Like the EU, the UK uses traditional diplomatic methods like demarches and reporting in pursuit of this goal. In particular, the UK relies on its local diplomatic stations to monitor, evaluate, and execute policy to promote freedom of religious belief around the world.
Mr. Annicchino described both the opportunities and challenges the EU faces in promoting religious freedom around the world. He noted that, while some differences exist between them, the United States, Canada, and the European Union form a trans-Atlantic partnership in promoting religious freedom. However, he explained that the religious freedom project faces criticism from those who feel promoting freedom of religion and belief is just politics through another means, and those who believe not enough is done to promote freedom of belief. Mr. Annicchino also discussed the EU's challenge in effectively using its resources to assist the freedom of religion. He used Egypt as an example, saying the nearly one billion Euro spent there to promote religious freedom bore almost no positive results.